The year 2018 has witnessed some influential mergers such as IBM-RedHat and Adobe-Marketo. Both alliances clearly indicate that enterprises will leave no stone unturned when it comes to delivering quality product and services. Cloud being the driving force behind both the mergers has clearly shown that adopting cloud-based solutions has become the need of the hour for every organisation.
To keep pace with the technological advancements, a large number of companies are planning to scale up their IT infrastructure. Research has also found that large and small enterprises will be ramping up their IT allocation in 2019, where cloud's share will be 21%.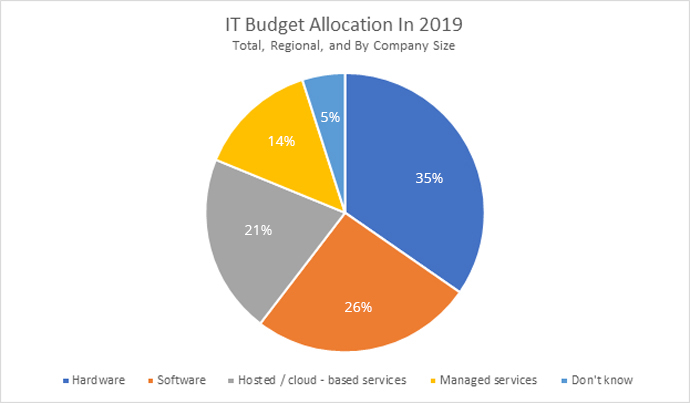 So, there is no denying to the fact that cloud-based solutions will experience a rise in demand in the current year.  And cloud telephony being one such cloud-based solution is also expecting a huge surge in demand with an expected worth of 2.77 billion U.S dollars by the end of 2019.
Cloud telephony has gained popularity due to the efficiency it offers to the business communication industry. And as statistics reflect, this popularity will gain more momentum in the year 2019.
Let's understand in detail why is it important for any business to make this shift to cloud telephony
Easy to Set-up
The major setback faced while using traditional PBX is the need to buy the telephony infrastructure which includes a complex set of hardware and software. In addition to the telephony system, one also needs a vast amount of space to get a telephony system installed. Thus, from buying to installing, every step demands a significant amount of effort to be invested.
On the contrary, in a cloud telephony system, one does not need to worry about the involved infrastructure apart from the basic requirements such as desktop, internet, and headset. The cloud telephony service providers themselves takes the headache of buying and installing the required infrastructure as everything gets hosted on the cloud.
In order to get started, a business only needs to search for a cloud telephony service provider who offers maximum features. Once you finalise your service provider, you only need to put forward your business requirements which include number of calling channels, rate of calls, and other necessary add-on services.
Easy to Scale
Growth trajectory of no business remains constant. So, telephony system of any business should be robust enough to accommodate the changing requirement of the business seamlessly.
In case of traditional on-premise systems, the flexibility to easily scale and descale the telephony system is a challenge, as a business needs to put in a lot of effort and money to add or remove the existing infrastructure.
Whereas, in the case of cloud system, the process of scaling is easy to implement. A business simply needs to request their service provider for any change. Because the cloud service provider is already equipped with abundant resources, the process of scaling and descaling becomes easy. Moreover, the time needed in the scaling process also cuts down to more than half which significantly boosts the efficiency of the whole process.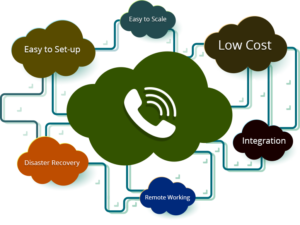 Low Cost
Cost – one of the most influential factors in any business decision. Cloud telephony successfully caters to this aspect of the business, as companies do not have to worry about buying and installing infrastructure which reduces the overall cost of the system substantially. Moreover, as all the infrastructure is hosted on the cloud, the cost of buying extra space to install the infrastructure also gets eliminated.
In addition to reducing the infrastructure cost, the service cost also gets minimised. Cloud service providers follow 'pay-as-you-use' model which implies that one only needs to pay for the number of services they use including the number of minutes spent over calls. Thus, cloud telephony solution proves to be a cost-effective solution which can serve to a variety of organisations irrespective of the organisation size.
Disaster Recovery
With an on-premise system, one cannot assure of business continuity as server failures, network issues, and other hardware problems can come uninvited anytime. And due to infrastructure and cost limitation companies cannot keep extra hardware in place all the time.
However, with cloud-based telephony systems, these failures are no more a point of concern.  Cloud service providers already have disaster recovery plans in place, i.e., they have multiple servers on multiple geographical locations in which the data gets backed up constantly. Hence, if a physical location gets affected by a disaster, the data can be recovered from a redundant location.
Remote Working
Flexible working has experienced a remarkable rise in the last few years. And going by research statistics, by 2020, 70% of organisations will adopt this style of working. Thus, a business needs to have the right technology in place to provide their employees with remote connectivity.
Here, cloud telephony systems are beneficial for the employees, especially call centre agents, as they handle a major portion of any company's communication. As the communication system is hosted on the cloud, an agent can easily manage their communication remotely by accessing the web portal from anywhere.
And with call routing, the customer calls can be forwarded to a different number including your personal number. Thus, adopting cloud telephony ensures that an employee can seamlessly work remotely without affecting the productivity.
Integration
A business constantly needs to innovate its strategies in order to remain in the race. Having a cloud-telephony system in place makes it easier for a business to integrate third-party application which provides the flexibility to go beyond offerings of a service provider. These types of applications also help in enhancing the productivity of the employees as well as overall processes.
Take your business to the top with cloud telephony. Contact us at 1800-120-4132 to get started today.