Bollywood movies manage to connect with their audience, irrespective of their native language and hometown. Since the first Bollywood movie in 1913, Raja Harishchandra, we have flocked to our nearest cinema theatres every weekend for a much-needed dose of spice and drama in our lives. Evergreen classic hits, starting from Mughal-e-Azam, Pyaasa, Sholay, Mr. India, Lagaan, Dilwale Dulhania Le Jayenge, Dil Chahta Hai and many, many more have defined our lives in several ways.
Through this blog, we will reimagine some of these blockbusters with the lens of cloud telephony solutions, while also understanding the workings of the technology. So, get-set to start on this mesmerising ride down the memory lane with some interesting twists. 
Quick tip: Grab some popcorn!  
Sholay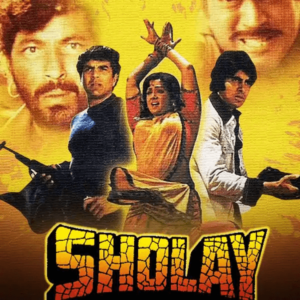 This is one of the most iconic Bollywood films till date, with almost all scenes receiving near cult status. But picture this: what if the residents of Ramgarh were in constant touch with the police? What if they could keep them updated about the notorious Gabbar's whereabouts through toll free numbers? The dacoit would never have been able to kill Thakur's family.  
Hence, there would be no need to get Jai and Veeru to the rescue. Overall, one simple cloud telephony solution––toll free numbers––could have easily saved the lives of our beloved gaon-wallas, and Veeru and Basanti would have eventually found their way to each other.
(1) Toll-Free Numbers
These are free-to-call (1800) numbers. Customers can dial up a business or organisation without incurring any charges. The call costs are instead borne by the business. It allows easy customer communication and helps organisations gather and disseminate crucial information.
Lagaan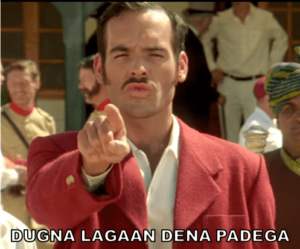 "Dunga Lagaan Dena Parega"
We bet you read this dialogue with a British-Hindi accent, didn't you?
Poor villagers of Champaner are worried about a possible drought and their inability to pay any taxes to the British administration. With no other hope, they approach their king––only to find themselves in an even bigger scramble. Either win a completely alien game of cricket or pay double the tax!
Now imagine, if the villagers of Champaner received automatic weather updates from their local king, Raja Puran Singh via bulk SMS campaign. Villagers would not have been worried about erratic rainfall. Bhuvan would not have needed to tussle with Captain Russell, hence, no "Dunga Lagaan" and everybody would've lived happily.
(2) Bulk SMS Services
Bulk SMSes are an effective marketing and broadcasting medium that help businesses reach out to the masses or a targeted audience. All one needs to do is draft a single message, select a contact database and that's it. The bulk SMS service provider shall take care of the rest. 
This cloud telephony solution has several applications. It can be used to send out information, updates, new launches and offers. Or it can also be used to gain customer feedback. Businesses can also personalise these messages with names or preferred languages, ultimately adding to the brand image.
Hera Pheri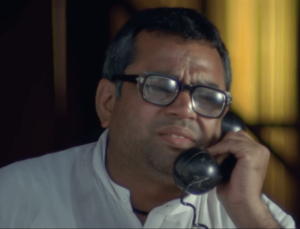 Who can forget this epic laugh-riot? It introduced us to iconic characters like Babu Bhaiya, Shyam, Raju and their hilarious dialogues. The plot revolves around how the dismal lives of our characters change because of a cross-connection on Babu Bhaiya's phone. 
However, what if Babu Bhaiya had incorporated call forwarding and could transfer the calls to the correct destination––Star Fisheries? While our characters would have remained poor and battered throughout, it would have solved the entire plot instantly!
(3) Call Forwarding
Call forwarding is a cloud telephony feature that automatically redirects or transfers the call to another preset number. The process is so seamless that the caller never finds out that the call was forwarded. 
This feature has several business applications. It allows organisations to address all incoming calls efficiently even during peak incoming traffic. Calls can automatically be transferred to active agents, thereby reducing the wait time for callers. Furthermore, calls can be forwarded to another branch if the call centre has reached its peak or is down (or unavailable) due to technical issues.
Ghajini
Ghajini was the official Bollywood remake of a Tamil movie with the same name which was inspired by a Hollywood movie, Momento. Through the movie, we see how the protagonist, Sanjay, develops anterograde amnesia. The term refers to the incapability of being able to remember anything for longer than 15 minutes. 
This, of course, is a major inconvenience for him as he hopes to find Ghajini, the villain, and avenge the death of his romantic interest. To cope with the issue, then, he tattoos every clue about his identity and mission on his body.
However, with the help of cloud telephony, our lead wouldn't have needed to go through the pain of tattooing every detail on his body. He could've deployed a virtual number and used the call recording feature to keep track of every detail. 
These details would've been securely stored on the cloud and he could've accessed them whenever and wherever he wanted. Formulating a revenge plan would've become much easier and quicker for him.
(4) Virtual Number and Call Recording
As the name suggests, virtual numbers are facilitated virtually via the Internet (cloud). They operate without telephony cables or SIM cards and are primarily used to forward calls to a preset number. Businesses use this service to streamline their service by offering a single contact number to customers. This number may then forward the calls to different teams or even locations.
Call recording is yet another cloud telephony feature that allows managers and marketers to improve customer service. Using this feature, every customer conversation can be recorded and reviewed in case of any miscommunication or for training purposes.
Gangs of Wasseypur
Gangs of Wasseypur is no doubt a modern classic. This Anurag Kashyap superhit exposed Bollywood viewers to authentic cinema filled with raw details and some fine acting. The two-part saga primarily revolves around the rivalry of Ramadhir Singh with Sardar Khan and his family. "Baap ka, dada ka, bhai ka; sabka badla lega re tera Faisal." Remember?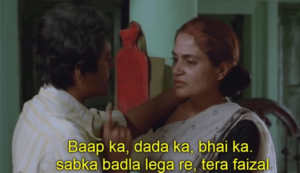 Cloud telephony could have immensely helped our characters at various plot points throughout the film. For example, consider Sardar Khan using voice broadcasting and bulk SMS service to inform all Wasseypur-ites' about the cruel and wrong deeds of Ramadhir Singh. Hence, there would've been no need for dancing man announcements!
(5) Voice Broadcasting
It is a powerful tool for businesses and nonprofit organisations alike. It is primarily used to broadcast or disseminate information to a large audience at once. Businesses also deploy the tool to promote new launches, update customers about new offers and discounts or disseminate critical information. 
For example, voice broadcasting was extensively used during initial months of the COVID-19 pandemic and during the recent cyclones and floods that created havoc across the country. It is also an effective tool for political campaigns and conducting wide-scale surveys.
Padman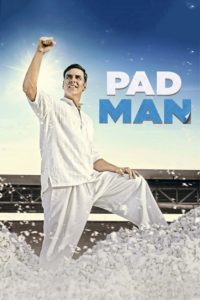 Inspired by the life of Tamilian social activist Arunachalam Muruganantham, the movie highlights the countless struggles faced by the man.  In the movie, the hero, Laxmi, is devoted to his wife and wishes to provide her with safe-to-use sanitary pads. When he starts making these pads himself and tries to gather feedback from women, he is mocked by people and forced to leave his hometown.
Considering the noble pursuit of our hero, he should have been aided with cloud telephony solutions. Laxmi could use Interactive Voice Response (IVR) and number masking to discreetly gather feedback about his product. 
While number masking would have kept his and the customers' identity private, IVR would have allowed him to gather opinions without having personally interact with anyone, saving a lot of people from awkwardness. 
(6) Interactive Voice Response and Number Masking
IVR is one of the most powerful and popular cloud telephony tools. It automatically answers incoming calls, provides callers with an easily navigable menu and forwards the call to concerned teams or agents. It also helps you manage incoming call flow seamlessly and further reduces the chances of human error while enhancing your brand image.
On the other hand, number masking is a unique feature that provides an added level of security to every conversation. It masks the number of both the caller and the receiver by displaying short-lived virtual numbers. This ensures confidentiality. The tool is especially useful for end-to-end service providers like cab, food and other delivery aggregators.
Conclusion
Bollywood is often a reflection of our own lives. It is said that a good story is ingrained in reality. Cloud telephony could have come to the rescue of our lead characters through generations of plot points, and it can come to your aid too! The technology can streamline your processes, maximise your profits and enhance your brand reputation––all without any major costs or effort. Its diverse products and custom pricing make it ideal for all businesses. 
Call our sales team at 1800-120-4132 to know more!