ENSURE SAFETY ALONG WITH PRODUCTIVITY
Sustain Business Continuity During the Lockdown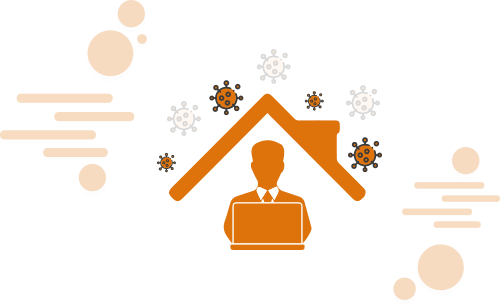 The coronavirus disease pandemic has flurried in uncertainty for offices around the world. As social-distancing rules necessitate a dispersal of team members away from the office, it is tough for firms with traditional phone systems to handle all the calls that are going unattended on the office landlines.

Servetel's cloud phone system is a quick and easy fix that will enrich your business communication even beyond the ongoing lockdown. With cloud telephony, you can route all your business calls from landlines to mobile phones of your sales and support staffers, empowering them to efficiently work from home.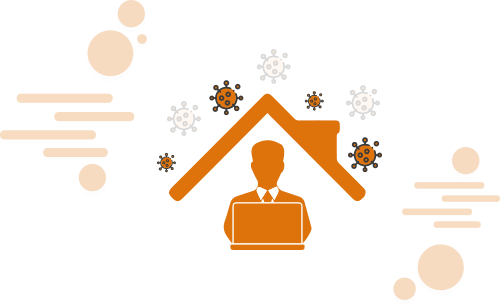 Features
Power up Your Teams for Work From Home

Quick and Easy Set-up
Don't buy physical infrastructure during lockdown. Set up your remote working system within minutes, while at home.

Call Management Solution
All-in-one call management solutions provide you handy features such as call recording and forwarding.

Never Miss a Call
Keep a record of attended, missed, and outgoing calls and set reminders to follow-up on any missed calls.

Auto-receptionist
Answer calls with an IVR and route to the right agent based on expertise, availability, and language preference.

Comprehensive Daily Reports
Get detailed reports of your team's performance on email to fine-tune all the business communication.

Agent Monitoring Portal
Track call logs of your agents on a dashboard. Enter a call silently when a team member needs assistance.
Benefits
Your Team's Health Will Always be a Priority

Make An Instant Switch
It doesn't matter if you have been using traditional landlines for years, work from home is your best incentive to make an easy shift to the cloud in just a few minutes. All your incoming calls will be routed from your office landlines to the cloud phone, ensuring you never miss a single call during as well as after the lockdown.

Work Remotely, Scale Easily
There is efficient ease in working remotely. Put the safety of your team first, and manage all calls and communications anywhere with your smartphone. Your sales and support staff can work from home and don't need to be in the office to take customer calls. Further, you can add as many agents as your company needs behind a single number, making it a highly scalable solution.

Low Costs
We provide a pay-as-you-go subscription-based service. There is no requirement for capital charges, which makes cloud telephony highly competitive in comparison to traditional phone systems. You can scale up your volumes whenever you want with a fraction of the cost it would otherwise have required in buying new phone systems.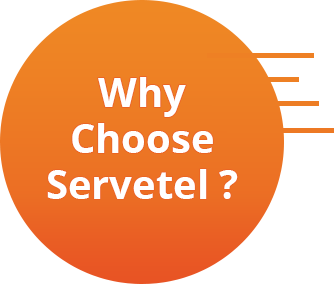 Best-in-Market Pricing
Get high-quality cloud telephony suite with minimal effort and cost investment
99.99% Uptime Guarantee
Servetel offers 99.99% SLA-backed uptime with N+1 redundant infrastructure
End-to-End Customer Service
From research to post-purchase assistance, we ensure hassle-free customer service at every step.
24*7 Customer Support
Get uninterrupted live assistance from our product experts over email, chat and call.
API Integrations
Innovate your business solutions with CRM and other third-party application integration.
Get access to fully functional cloud telephony suite along with free SMS & call credits.
Frequently Asked Questions
We thought you'd never ask.