Servetel enables you to deliver a faster and richer customer experience with smart IVR solutions. Our IVR service comes with diverse features empowering different businesses across different industries.
Benefits
Let's understand the value that an IVR
brings to your Company

Zero Investment
No hardware, no maintenance
Pay for what you use, no unnecessary overheads
No contractual obligations
24x7 free support
Fast & easy set up

Boost Sales & Build Relationships
Build a professional and credible brand
Connect prospects with your sales team instantly
Instantly answer every call
Customer retention and referrals
Instant update to reports

Customer Centric
Save caller's previous preferences
Smart up-selling – on hold music to play latest offers
Personalized greetings
Multi-level IVR
Gather customer feedbacks
Features
An IVR can be used for a lot more than just
routing the calls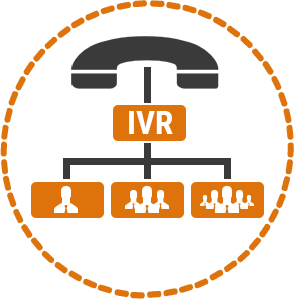 Transforming Your Business With IVR
Customized welcome greetings for your business.
Multi-level IVR to streamline call flow to right departments.
Statistical reporting to track caller's response.
Touchtone and speech recognition technologies.
Frequently Asked Questions
For those who have gotten familiar with IVR recently, here are few FAQ's
Yes, Servetel has a fully functional trial version that can be availed for a period of 15 days.
It's easier than you think. Get access to Servetel self-service dashboard system and track team performance and available balance. You can also access call recordings, even customize call routing rules and much more.
We can get you started within 2 to 3 hours. There's no set-up cost and no need for additional hardware.
It's simple! All you need to do is get a No Objection Certificate from your existing operator which allows you to take control of your number and accordingly, you can forward your calls to the same number hosted by Servetel IVR.
Yes, the service is available with a prepaid plan. You purchase credits in advance. These credits will be deducted according to the number of calls addressed by IVR.
We send you an advance notification when your balance is low. You can also monitor your account balance by logging on to the self-service portal so you never run out of credits.