And a Few more Solutions…


Field Force Call
Management
Coordinate and analyse every sales and lead generation activity with effective field force call management.

Dealership Call
Governance
Efficiently organise interactions and coordination between the many branches or outlets of your business.

Sentiment
Analysis
Add more meaning to what customers say with sentiment analysis. Build lasting impressions on customers.
Cash-on-Delivery
Verification
Assess the legitimacy of a cash-on-delivery order placed to your portal, especially if it's a big amount.

Delivery
Rescheduling
Door locked? Customer out of town? Have provisions in place to automatically make more delivery attempts.

IVR-based
Interviews
Ask job prospects core questions using an IVR and leave the initial assessment bit to automation technology.

Dispatch
Notifications
Make sure your customers are updated about their orders by sending timely dispatch notifications.

Automated Surveys/
Feedback
Customer out of town? Have provisions in place to automatically make more delivery attempts.

Appointment
Reminders
Let your customers know of their, say, dentist's appointment, by sending automated call or text reminders.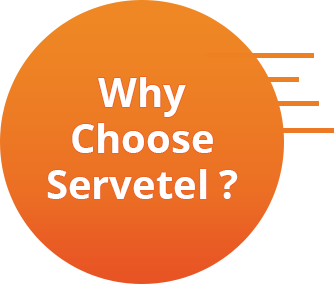 Best-in-Market Pricing
Get high-quality cloud telephony suite with minimal effort and cost investment
99.99% Uptime Guarantee
Servetel offers 99.99% SLA-backed uptime with N+1 redundant infrastructure
End-to-End Customer Service
From research to post-purchase assistance, we ensure hassle-free customer service at every step.
Enhanced Customer Support
Get enhanced live assistance from our product experts over email, chat and call.
API Integrations
Innovate your business solutions with CRM and other third-party application integration.
Get access to fully functional cloud telephony suite along with free SMS & call credits.
Don't wait. Give us a call today and find how Servetel can work for you.
Let Servetel enhance and automate your customer service today. Our solutions are top-of-line intuitive and customisable.

1800-120-3100