Introduction
With the rapid changes in technology these days, traditional and manual ways of communication have been replaced by automation. Nowadays, automating your communication processes has become a necessity in place of leisure. And cloud telephony is one such solution that has brought this change in the communication industry.
Cloud has impacted the masses far and wide. And, when we talk about its impact on the business, it has been a catalyst for many recent developments which has prompted better customer experience and steady business growth. Hence, moving to cloud telephony is the best decision a business could make to stand out in the communication industry.
Cloud telephony is a communication technology where all the communication infrastructure is hosted over the cloud by a service provider. It is an efficient way to interact with customers by providing enhanced customer satisfaction.
It can be accessed via two networks:
1. PSTN (Public Switched Telephone Network)
It is a traditional circuit-switched telephone network running on copper wires. It has proved to be a trusted means of communication since the 1800s. However, due to legal concerns, mixing of PSTN and VoIP calls are strictly not allowed in India and countries from the middle east.
2. IP (Internet Protocol)
In this case, calls are initiated and facilitated via the internet.  A vast number of western countries are already providing Internet calling, or VoIP enabled services.
Types of Cloud Telephony Services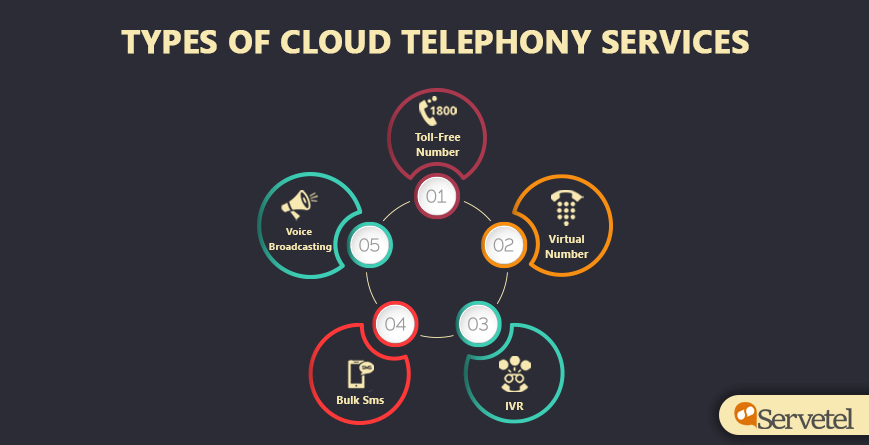 1. Toll-free Number
A toll-free number acts as a platform over which customers can contact your business without paying for any call charges. All the expenses of inbound and outbound calls are borne by the business instead of the caller.
2. Virtual Number
A virtual phone number routes your business calls to your personal number and enables you to receive calls from anywhere. It is comparatively cheaper than a toll-free number and allows you to use a personal number for your business.
3. IVR
Interactive Voice Response (IVR) automates your business telephony system. It automatically answers all the incoming calls without fail and greets the caller with a pre-recorded voice. IVR also takes response from customers through DTMF inputs via keypad buttons.
4. Bulk SMS
With bulk SMS, you can deliver messages instantly to multiple recipients simultaneously. It makes sure your marketing campaign reaches out to a maximum number of the target audience.
5. Voice Broadcasting
Voice Broadcasting helps you broadcast a voice message to a huge audience in no time. It also enables you to schedule multiple promotional campaigns as per demand and track the result further.
How Is It Better than Traditional Telephony?
There are several reasons which state that cloud telephony is better than the traditional methods of communication. Let us understand the comparison between On-premise and Cloud Telephony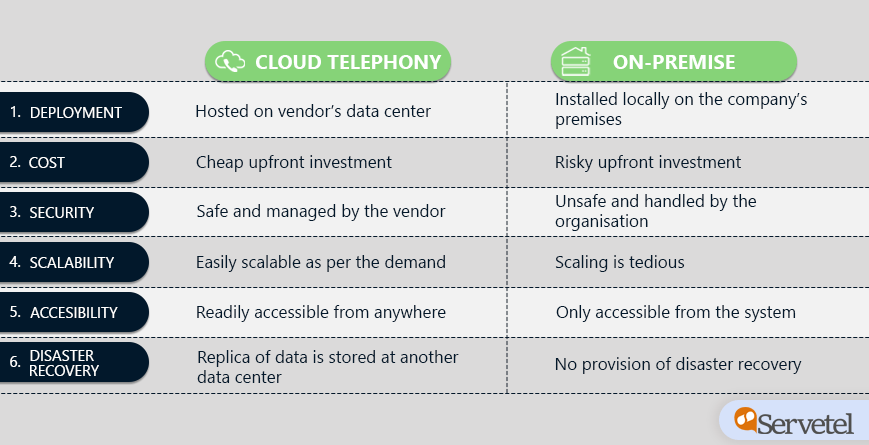 1. Deployment
A cloud telephony-based system is hosted on the service provider's data centre and can be accessed through a web portal. Hence, the organizations need not purchase a dedicated space for their business communication system.
Whereas, on-premise telephony system is installed locally on the premises of an organization. Also, the company needs to buy additional and dedicated space for bulky hardware. This results in additional expenditure, which might affect the ROI of the company.
2. Cost
Cost-saving is an essential deciding factor that every business considers before purchasing any service.
Cloud-based telephony systems do not demand high upfront cost investment. They involve a basic cost in the form of operating expenditure which the organization needs to pay for whatever services they use.
However, on-premise systems demand a high capital investment to set up a communication system. To get started, you need to invest in the bulky hardware, office space and dedicated infrastructure management team.
3. Security
The data stored over the cloud-based system is secure and handled by the service providers. These cloud service providers are proficient in handling crucial data and are always equipped with the latest updates and tools. It is the sole responsibility of the vendor to process any security threats. The data is stored at the service provider's data centre and managed by a highly professional and dedicated team.
With your data hosted on-premise, it becomes your responsibility to manage and keep it secure. You might need to hire security managers to handle the data manually, which demands an extra workforce. Also, your security staff needs to stay updated with security threats and other safety concerns.
4. Scalability
Expanding your business becomes hassle-free with cloud technology. Delivering the on-time requirements is what businesses strive for, and this becomes possible with the cloud. Cloud technology is a convenient option if you plan to migrate your business from one geographical location to another. You can easily add new agents and departments in the cloud-hosted systems.
It might take weeks or months to deliver the increase in demand with the traditional telephony system. These systems come with a limit to scale and need to be replaced continuously to maintain efficiency and quality.
5. Accessibility
With your data hosted over the cloud, you can access it from anywhere and anytime. You just need an internet facility and authority to access the data. All your valuable data can be accessed over your system in a couple of seconds; this gives you the flexibility to access data even while travelling.
For example, one of the best examples of hosting data over the cloud is Google Drive. When you upload your files on the drive, you do not need to carry your system everywhere to access the data. All you need is a device and internet to access your data.
In the on-premise system, you cannot access your files from another system. As these systems are fixed and are not connected over the network, you cannot access the data on-the-go or from anywhere other than the system.
6. Disaster Recovery
The primary concern for most of the businesses remains disaster recovery management. With the cloud, your data always remains safe as it hosted on the service provider's data centre. Also, multiple replicas of the data are stored at different locations as a security measure. So, if a natural calamity hits the data center, the data will not be lost.
On the other hand, on-premise systems do not have disaster recovery option as the data is stored at the premises of the company. If any hazard or disasters strike the company premises, the data could never be recovered, until you have a backup for the same.
Which Industries Can Leverage It?
The advancements in technology have made an impact on all the industries across the globe be it education, healthcare, e-commerce, hospitality or finance. With the up-gradation in technology, companies nowadays ensure that they are updated with the latest trends and technology. Irrespective of the industry your business belongs to, there are many benefits of cloud telephony solution for every business.
1. Education
Schools and other educational institutions can switch to the cloud and create a platform to connect with students instantly. They need not spend hours making manual calls to the students to update them about an unexpected holiday or change in schedule.
They can send bulk SMS instantly to the parents regarding the timings of parent-teacher meeting or any other felicitation function. Fee reminders can also be sent to the parents over call via voice broadcasting.
Educational institutions can get a single toll-free number for all their branches working in multiple states across the nation or globe.
2. Healthcare
The healthcare industry is undergoing a digital makeover by switching to digitalised records and medical subscriptions. The healthcare industry can leverage cloud telephony in diverse ways to support their patients.
Hospitals can use SMS and voice reminders to remind their patients about an upcoming appointment or medical subscription.
With the help of virtual receptionist, patients can book their appointments in a couple of seconds with a single click.
Different departments of hospitals can send motivational messages to their patients to help them stay positive.
Hospitals can deploy IVR so that no call by a patient goes missing. This ensures there is no loss of life due to any communication gaps.
3. E-commerce
E-commerce sector has leveraged cloud technology in the industry very efficiently.
We can observe this in our daily lives. Whenever we purchase from online shopping sites, we get an order confirmation message from the company. From order dispatch to delivery, we are informed about the progress of our order at every step. Cloud telephony also provides number masking feature which secures the personal information of the customer. With number masking, the contact number of the delivery person and the customer is not shared with each other.
4. Real estate
It is essential to keep yourself updated if you happen to be in real estate. In the modern world, clients do not prefer the traditional methods of driving all over the city to check out properties, instead they prefer to research on their own. Cloud telephony provides enormous opportunities to real estate sectors, due to which a large number of real estate organizations have already migrated to cloud.
Agents and builders can have a single number for all their ongoing project sites so anyone who wants to purchase a property can communicate with them easily. They can also send instant messages to their clients regarding instalments and due dates.
5. Finance
Most of the industries have started switching to the cloud at a fast rate as it provides a platform for innovation and improves the efficiency of the business communication process. The finance industry is no exception in this field.
Finance departments are using bulk SMS services to inform their employees about salary credit and other relevant information. They can also advise the clients to clear their debts with the company with the least human interaction by sending instant messages or voice messages.
6. Travel and logistics
Travel organisations can use cloud telephony services to help their customers and enhance customer satisfaction in various ways. They can use services like bulk SMS to send a text to their customers.
Travel and logistics organisations can have a single toll-free number for all their branches across the nation so the customers can communicate with them easily.
They can remind their customers of their bookings via bulk SMS/voice broadcasting a couple of days or hours before their journey.
Local travel agencies can deploy a virtual number and provide a convenient platform for customers to connect with them. They can also continue using their personal number as a business phone number with the help of a virtual number.
Hotel booking agencies can inform their clients about their booking and update the check-in and check-out timings.
Travel agencies can send voice recordings to multiple users in case of a bus cancellation or any other issues with voice broadcasting. This eliminates the need of manually calling the clients to inform them about the cancelled booking and hence saves time.
Conclusion
Cloud telephony is an all-in-one communication solution. Its low cost and easy scalability make it a star choice for every industry. Above mentioned industries have already started using cloud telephony for their business communication purposes. Not only it is more secure but also easy to set up. It is high time to switch to the cloud. Contact us at 1800-120-4132 and make your business reach the clouds.