Most of the businesses these days depend upon communication as it gives an edge to the businesses in the market. If you happen to be a business owner who is looking for ways to connect with your customers to enhance customer satisfaction, toll-free number service is the right solution for you. It is a two-way street that benefits both the company and its customers.
What is a Toll-free Number?
Toll-free number is a business phone number that allows callers to reach an individual or a business free of cost. Customers can contact on toll-free numbers to solve their queries or express their concerns to the business.
Toll-free number is an important business asset, irrespective of company size. It provides businesses with bundles of opportunities to boost their profits. A large number of organizations use IVR solution along with the toll-free number to provide enhanced customer service to their callers.
Is Vanity Number The Same Thing?
Vanity numbers work similar to a toll-free number and differ only in appearance. These numbers are fancy toll-free numbers which include words related to your service to make the number easier to memorise. They work successfully because a number that represents your brand is much easier to remember than a random combination of numbers.
For example, a pizza company may use 1800-FOR-PIZZA as their vanity number. This alphanumeric pattern makes the number easy to remember. This can be dialled as 1800-367-73992. If you have a look at your phone's dial pad, you will notice that on each button, there are three english letters printed.
1800-FLOWERS OR 1800-TAXI are the famous vanity numbers used by several organizations to represent them as a brand and keep themselves user-friendly. However, unlike any other toll-free number, vanity numbers have no restriction on the number of digits.
How Toll-free Numbers Came Into Existence?
In the era of electro-mechanical call switching, network operator's participation was required to connect the calls, which means bundles of manual work. But, with the advancement of technology, developers have made it a fully computerised process which is automated and time-efficient.
Initially, collect calls were used in which the calling party made an outbound call at the called party's expense. This system got evolved to manually operated toll-free systems in which the call charge flow was reversed. Later in 1966, AT&T introduced a direct dial system which was still based on electro-mechanical call switching system but was accepted worldwide. In the end, modern direct dial system established its presence and still continues to be a success.
In this era, as a result of modern direct-dial systems, toll-free numbers have gained extreme popularity. With the increased demand amongst businesses, we now have a variety of toll-free numbers.
However, there are a lot of variations in the toll-free plans which vary according to the toll-free number service. There is a broad spectrum on which toll-free numbers can be categorised.
Types of Toll-free Number
There are three types of a toll-free number, although all of them serve the same purpose – to enable customers to call businesses free of cost, yet, there are some subtle differences.
1. Universal International Freephone Number (UIFN)
UIFN is an eleven-digit number which can be used by companies that operate in multiple countries across the globe and want to use the same number for all their locations. Such organisations should use UIFN to communicate with their customers.
UIFN is usually preferred by large enterprises, including e-commerce giants, high-end resorts, etc.Such companies prefer having a single number for all their areas of operation.
But, before going for a UIFN number, there are three things that businesses need to keep in mind.
UIFN is operational in hardly 50 countries, so it doesn't cover much of the market.
Cost of service is higher in comparison to International Toll-free number and Domestic Toll-free number.
Organisation needs to be registered in at least two countries in order to purchase a UIFN.
2. International Toll-free Number
These are country-specific toll-free numbers, which means that making outbound calls to such numbers from any part of the country is free for the callers; instead charges are borne by the company.
Any organisation using International Toll-free number gains loyalty amongst the customers. Also, it encourages organisations to maintain a national presence and enables them to move without changing their business phone numbers.
Although International toll-free may incur additional charges for calls made to mobile phones, there are some restrictions in using International Toll-free number.
3. Domestic Toll-free Number
Domestic toll-free numbers are the most preferred means for companies having a national presence. Any company having its offices across the nation can leverage domestic toll-free number to facilitate their business communication. Domestic Toll-free numbers are like International toll-free numbers, these numbers don't incur any add-on charges for making calls to mobile phones, and they have negligible restrictions.
Working of Toll-free Number
The working of a toll-free number follows the idea of charging the party being called and provides the caller with a free of cost calling experience. The cloud service provider's server acts as an interface between the guest and the agents and establishes a secure connection between them. It involves two outbound calls made at the server over the cloud.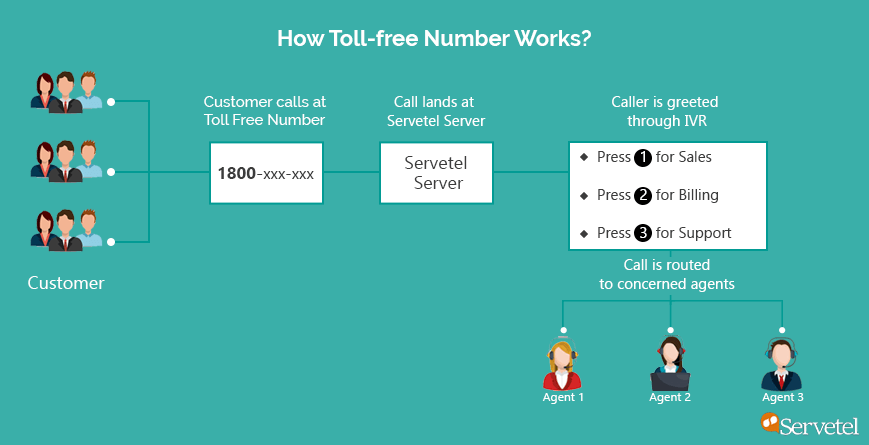 Toll-free number follows these steps of working:
Customer calls at the company's toll-free number.
Call gets landed at cloud service provider's server like Servetel.
The caller is then greeted with IVR followed by a welcome greeting. It displays several options to connect with agents from different departments like sales, billing and support.
The server then makes an outbound call to the agents of the concerned departments according to the selection made by the caller.
How to Get a Toll-free Number
Getting a toll-free number is as easy as signing up for one. There aren't any costly equipments or surprise expenses involved in the process. You just need to sign up and purchase toll-free with leading service providers like Servetel.
Also, toll-free comes up with easy scalability, so you need not worry about the high demands if your business is growing. The service provider does the scaling for you as per your needs.
Benefits of Toll-free Number
There are endless benefits of a toll-free number. Few of them include:
1. Improves Customer Relation
If a person can't reach out to you, why would that person want to associate with your business?
The toll-free number allows your customers to communicate with you directly to voice their concerns or ask queries.
When the customers have a reliable number to call in case of an issue, they begin to develop trust in you. This trust takes the form of customer loyalty being in the long term and helps improve customer retention for your business.
2. Enhances Brand Image
Toll-free numbers aren't just for large organisations in the industry; they work great for all companies, irrespective of their size.
Displaying a toll-free number on your website and portraying it on the advertisements gives a brand image to your business making it more reliable and robust. This makes customers believe in you and creates a positive image in the minds of the customer.
3. Available at Affordable Prices
Toll-free numbers come with hassle-free setup and at affordable prices. Any organization can afford a toll-free number, be it a start-up or any small business. Many service providers offer toll-free number at rates lower than that of regular telephone services.
It comes with affordable monthly plans or a pay-as-you-use model, which makes it easier and economical for the businesses. They need not pay for a full amount. Instead, they need to pay for whatever amount of services they use.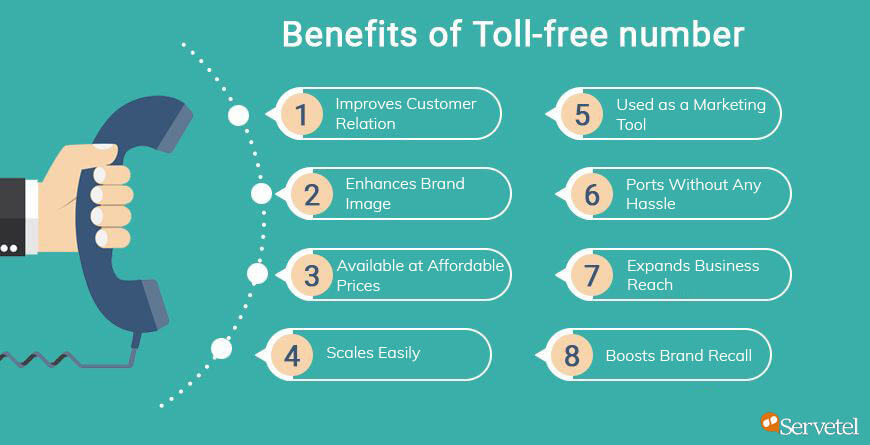 4. Scales Easily
Toll-free number provides you with the ease to quickly scale your communication channels as per your needs. With a toll-free number, your customers are never ignored, neither kept on waiting for their calls to be received.
Sometimes there is a surge in the incoming calls due to high demand or festive season. In such situations, the toll-free number helps you manage all these surplus calls. It provides the flexibility to add more channels as per your demand so that the required number of concurrent calls can be received simultaneously.
5. Ports Without Any Hassle
With a toll-free number, businesses need not switch to another number while moving to different geographical location. If you relocate your business due to some reasons, you can still use the same number for all the business communications.
Toll-free number facilitates organizations with business continuity feature even after changing business location. You won't lose any potential clients, and the prospects can reach out to you on time and facilitate seamless communication.
6. Used as a Marketing Tool
Using a toll-free number makes it easy for businesses to keep track of their marketing efforts. Businesses use various strategies to advertise and promote their products and services via billboards and pamphlets.
But the problem arises with the tracking of these marketing campaigns as it becomes a tedious task to know which marketing campaign works the best for you. Toll-free number is the one-stop solution to this problem. You can deploy different toll-free numbers for each of your marketing campaigns and analyse which number works best for your business.
7. Expands Business Reach
Toll-free number makes it simple for businesses to connect with the clients other than their base location or office. It enables customers from any part of the country to contact the business in a simple and cost-effective manner.
If you run an online store which deals with your customers across the globe, it makes sense to have a toll-free number for your business. National chains usually deploy a main toll-free number along with local numbers meant for each branch or franchise.
8. Boosts Brand Recall
One of the many benefits of toll-free number is the ease of remembering it. Customers are highly likely to retain your number when it's easy to memorise. In India, the initial four numbers are 1800 number followed by three digits which are provided by the network operator. The remaining digits vary for every other toll-free number. This increases the call rate and fortifies the customer base.
Easy to remember toll-free number pattern enhances your brand's recall among your customers. Other than your existing customers, this adaptability helps you grab more leads and convert them into potential customers.
Summing It Up
Nowadays, customers want to save money on every step and businesses strive to deliver high-class service. In such scenarios, the toll-free number proves to be the perfect path for both the businesses as well as customers.
It allows the customers to call a business free of cost. On the other hand, it enables a business to reach out to more customers and enhance their customer experience. Toll-free number has proved to be usefeul for businesses as it acts as a convenient platform to connect customers with the business effortlessly.
If you are looking for a Toll-free number which perfectly fits your business needs, give Servetel a call at 1800-120-4132.