When it comes to running successful marketing campaigns, everything boils down to thinking outside the box. You need to focus on creating an impact so that you can enjoy high ROI without spending a fortune. 
This is possible only with creative ideas and unique tools instead of run-of-the-mill strategies. A missed call number  scores on both fronts as it is a creative idea as well as a unique tool, making it a complete marketing strategy in itself.
It comes as no surprise, then, that missed call marketing is fast emerging as a top choice for businesses that want to go the extra mile with customer outreach. It empowers your business to connect and communicate with customers, and engage them for the long haul. The best part––it works for both budding startups and established brands as it fulfils expectations without burning a hole in your pocket. 
Missed call marketing campaigns are loved by customers and businesses alike because of their sheer simplicity. 
Companies advertise a phone number as part of the campaign promotion and interested customers leave a missed call. The business may then send an IVR call or automated SMS to the caller, sharing updates, promotions, or brand messages. This process boosts brand awareness and generates data for the business.
While everything sounds straightforward, there's a lot that lies behind a typical missed call campaign. It makes sense to dig deeper before you invest in one. Let us understand the missed call number campaign in detail––its workings, benefits, value, implementation, and more. 
The workings of missed call number campaigns
Before planning a marketing campaign with a missed call number, you need to understand how it works. Let us explore the steps in detail.
Choose a virtual number: The first step is to choose the right provider and get a virtual number to run your marketing campaign. Once you set up the number, you can promote it across online and offline channels, such as company websites, social media platforms, billboards, print ads, etc. 
Get incoming leads: Merely promoting your number across outreach channels wouldn't work. You must also have attractive offers to engage customers and generate leads. For example, you may offer a special discount to callers. Since missed calls are free and convenient for customers, the solution is bound to drive traffic.  
Fetch customer data in a dashboard: The next step is to collate caller data in a smart dashboard. When consumers start calling on the campaign number, details such as their phone number, region, and operator automatically get stored in the dashboard. Integrating the solution with CRM software offers rich insights into consumer behaviour and demographics.
Remarketing: A successful missed call campaign brings valuable data that a brand can use for remarketing activities, such as sending updates about new products, discounts, or upcoming events. Furthermore, tools like bulk SMS service and voice calls can be used to communicate the same.  
Benefits of missed call marketing
Now that you understand the set-up and implementation of these campaigns, let us discuss the benefits of the investment.  
Boosts operational efficiency: If you want to go the extra mile with operational efficiency, missed call numbers integrated with an IVR can do the trick. The integration enables you to reduce wait time and provide instant gratification to callers. 
Enhances customer service: Better operational efficiency translates into a superior customer experience. Tools like automated SMSes or IVR calls address queries in a quick fashion and are bound to increase customer happiness.
Lowers marketing costs: Compared to other marketing measures, missed call campaigns cost only a fraction. The call cost of toll-free numbers is borne by your company and you need to pay even for their hold time, which isn't the case with this alternative. 
Brings quality leads: Missed call solution gets you quality leads, translating into higher conversion rates. Additionally, the campaign generates interest without being intrusive. 
Integrates seamlessly with CRMs: Missed call numbers integrate seamlessly with CRM systems, so you get complete information through easy-to-use dashboards. Agents get access to caller details and history even before connecting and, as a result, can offer better and more personalised experiences. 
Boosts agent productivity: Getting the best out of your support team becomes a tad easier by having this solution in place. There isn't any usage limit for missed call alerts, so your agents will never miss out on any caller.
Apart from the aforementioned benefits, you can derive much more value from the investment. Since it is free for customers, they wouldn't hesitate while responding and connecting with your team. 
You also get real-time data, which ensures maximum conversions while staying compliant with regulations. Furthermore, missed call numbers are compatible with all devices, so you never miss out on customers and opportunities. 
Creative ways to leverage a missed call service for campaigns
While the missed call solution has the potential to serve as an effective marketing tool, you need to use it optimally to avail the best outcomes for your business.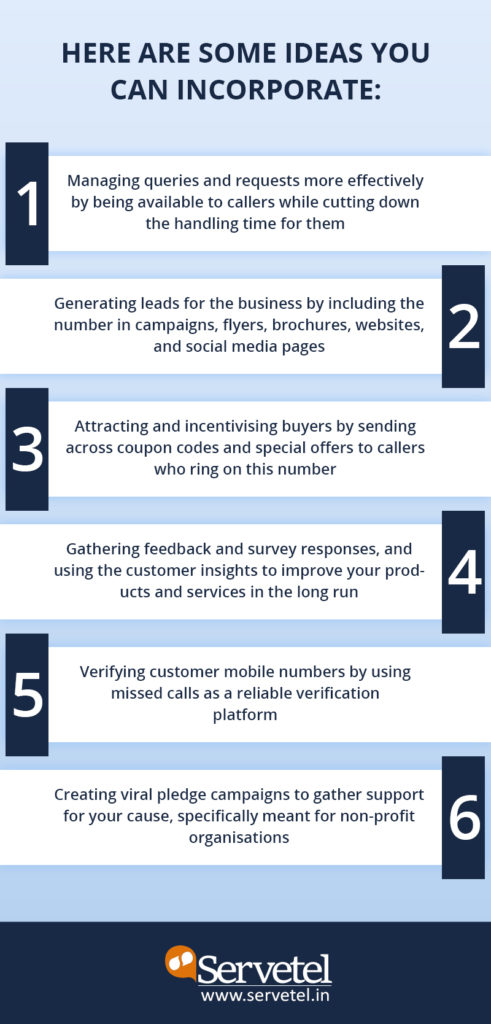 Getting started with a missed call campaign 
Needless to say, missed call services can empower your marketing campaigns without burdening your budget. It connects your business with customers for broader outreach and higher engagement. 
However, finding a reliable service provider to get top-rated services is highly crucial. 
Fortunately, you need not search a lot because you can rely on Servetel as your trusted partner. We offer high-end services with the assurance of quality, efficiency, and reliability. Just pick a missed call number for your campaign, and avail an array of add-on features such as an IVR, SMS services, CRM integrations, and much more. 
Let us ramp up your marketing campaigns with reliable miss call solutions. Contact us at 1800-120-4132 for more information.