Today, customers have become much more aware and demanding of their choices than ever before. With access to reviews on a click, customers can no longer be fooled into purchasing products if the product quality is poor. Apart from focusing on product quality, now customers are keenly evaluating the service quality as well before associating with the company.
In fact, stats reveal that
Three out of four customers say they had spent more money with a company because of the positive customer experience.
This means customers do not mind shelling extra bucks if they are happy with the customer experience. But the key question here is,
How to make customers happy?
How to deliver a customer experience that lasts long?
How to earn customer's trust?
Well, the answer is quite simple and basic, i.e., "Understand Your Customers" (simple to know but difficult to implement).
Yes, knowing your customers is a must. You cannot expect to keep someone happy if you don't know what makes them happy. Same is the case with meeting customer's expectations, to fulfil their expectations, you should know what they want.
And this is where CRM steps in. CRM is the go-to tool for a business to understand its customers and nurture the business-customer relationship.
Let's understand it in detail.
What is CRM?
CRM (Customer Relationship Management), is a tool that helps to manage a company's relationship with the existing and potential customers. CRM helps to manage interactions with customers by collecting their information and centralising it for quick access on a Customer Relationship Management software. It is highly helpful software for managing contacts, sales, process workflows, and productivity. Salesforce, Zoho, and Zendesk are some of the famous CRM players in the market currently.
Why CRM Matters?
Gartner predicts that by 2021, CRM will be the single largest revenue area of spending on enterprise software. That means, businesses are going to invest heavily in the CRM solution because of the high returns.
But why does investing in CRM matters so much? And what are the high returns?
To start with, you get a complete view of customers or leads – interaction history, order status, pending and solve customer service issues and more. You will have a clear picture of their journey from lead to customer.
And nowadays, customers are highly likely to toggle between different communication platforms while interacting with a brand. This scatters the communication onto different platforms and affects the consistency of the information flow.
For instance, a customer might raise a concern on Twitter but may switch to telephone or email midway.
In such cases, CRMs are highly beneficial. They manage the flow of information without losing the track and stores them in a central location that is accessible from anywhere.
Also, you can seamlessly arrange the scattered communication into a consistent flow by integrating CRM with your telephony, social media and email platforms. In addition to easing up the information tracking, it equips your customer service representatives with a wealth of additional information such as social media activities, previous mail chains and more.
How is it Helping the Business?
1. Automating Processes
With floods of call streaming in every day, tracking details of every interaction is difficult for the agents. Moreover, their struggle starts when they have to juggle between solving customer issues, logging in conversation details and attending the queued calls.
With sword hanging over their head all the time, it is straining for the agents to match customer and company needs.
CRM here proves to be a saviour. With CRM-telephony integration, every incoming call is traced and logged into the CRM automatically. It stores the tiniest detail of the call, including total call duration, time of the call, customer number, name etc.into the database without any manual intervention.
In addition to that, CRM also stores contact details, sales opportunities, lead status and more important information. This automation lifts off the burden of tracking everything manually and systematises the process.
You can also oversee the end-to-end process cycle for every interaction or conversion by extracting reports from the CRM.
Besides, helping with new customers, CRM data is valuable to identify repurchase opportunities for the existing customers.This includes extending the warranty period, renewing the subscription, or convincing the customers to purchase other products of the company.
2. Improving Process Performance with Analytics
Salesforce report says,
Without a CRM system, 79% of all marketing leads are never converted to sales.
A company invests a large amount of time, money and resources in attracting and converting leads. And failing to convert 79% of leads is a massive loss that no business can afford.
Thus, it is essential to understand that while investment is necessary to grow, the right analysis of this investment cannot be underestimated.
You cannot burn your money into something that doesn't yield results or yields a negative result.
But to understand if you are doing the right thing or doing the things in the right way, analysis of your processes is inevitable.
Firstly, as discussed in the last section, integrate your telephony, email, marketing, and social media platforms with CRM. By connecting all these varied platforms into CRM, you get a 360-degree view of all your important processes including sales, marketing and customer service. This complete view arms you with n number of analysis, such as,
1. Customer Analysis –
It provides detailed insight of how your leads are converted, what was the average time a prospect took before conversion, which activity (phone calls, marketing campaign etc.) lead to the maximum and minimum conversion.
All this analysis can help you understand what customers are looking for and where you are leading or lagging in meeting their expectations.

2. Sales Analysis –
This analysis provides you with an in-depth view of the sales process. You can review the sales performance for months, quarters, years or any customised time frame. Besides, CRM also provides month-on-month, week-on-week and year-on-year view to help you identify ongoing and upcoming trends.
A sales manager can also find answers to how long their teams take to convert leads into a paying customer, and what are the bottlenecks that obstruct this conversion.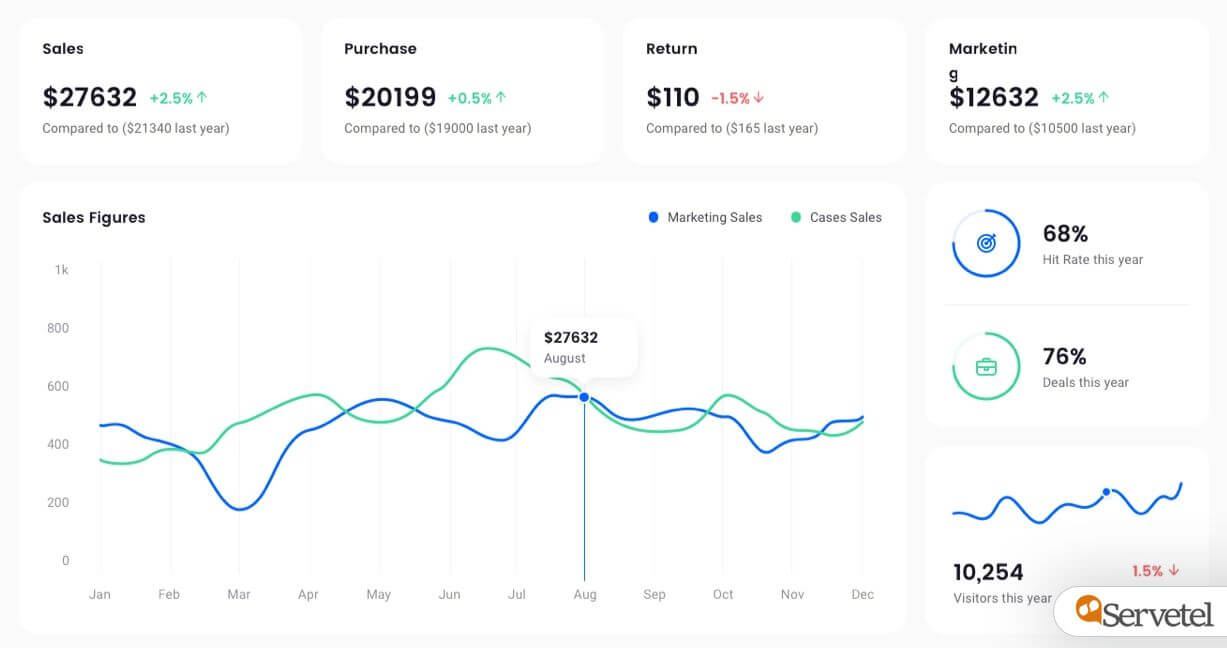 3. Marketing Analysis –
Businesses run a number of marketing campaigns to create brand awareness, launch new products and attract prospective customers.
Marketing analysis reports help you evaluate the ROI of these campaigns based on various key parameters such as engagement received (if running social media or Google ads), no. of closed sales, number of opportunities, number of leads and more.
Also, you can extract channel or campaign wise reports to understand
● Which marketing channel outperformed the targets
● Which channel/campaign helped you create a better brand image
● Which channel/campaign attracted relevant leads.
This information helps a marketing manager to create minimum-risk marketing campaigns by understanding what works best for them and what doesn't.
3. Amps Up Post-sales Service Quality
Needless to say, customer service is a critical aspect of any business that can make or break the reputation of the brand. And it's importance increases multi-fold when a business aspires to retain clients or generate more business from existing customers.
Studies suggest that,
"Fifty-five per cent of consumers would pay more for better customer experience. "
But the question here is what role does CRM play in refining your customer service quality. Let's try to understand the reason below,
1. Real time Data Access –
Customers are easily paranoid when they have to iterate all their details every time they contact a customer service representative. Not does it only annoy them, it also wastes their time and costs them hefty call charges.
CRM eradicates this issue by providing caller's information in real-time. It detects the customer's phone number at the time of the call, fetches their details from the database and displays all the related information on the screen to the customer service representative. Access to necessary information during the call improves the service quality and speeds up the query resolution process drastically.
2. Single Point of Reference –
CRM stores all the scattered communication of emails, social media, live chat and calls at a central location. Different teams can access this information and also add a new piece of information as required.
Also, departments can tag each other on the information if it requires their approval or consideration. This ease ensures that a single truth of data is maintained that facilitates not only information consistency but also expedite the customer service process.
3. Agent and Customer Service Quality Analysis –
CRM provides insights into how agents are performing, whether customer calls are answered on time, and what is the percentage of callers who find answers to their questions in the first call itself. This analysis is critical to understand if your customer service department is fairing well on customer's expectation or not.
After the launch of a product, businesses can also extract CRM data to understand which product or service received the most or no complaints. Once analysed, companies can use this information to improve their product offerings.
Conclusion
After reading what all CRM offers, one cannot deny that CRM is a valuable tool for businesses. It has optimised everyday business processes into delivering value, satisfaction and returns. Not only that, it has helped tackle one of the biggest concerns of the businesses – customer retention. With the inculcation of CRMs, companies are known to improve customer retention by 27%.
And it doesn't end here, CRM has proved to increase sales (by up to 29%), productivity(by up to 34%) and forecast accuracy (by 40%). These stats clearly represent that adoption of CRM will have a positive impact on every part of their business. So, whether your business is small or large, CRM is assured to give you positive returns in more than one way.
Reach out to us at 1800-120-4132 to know more.