In many ways, succeeding in any form of business is nothing but an endeavour of trend-watching and capitalising on the same. An entrepreneur who not only identifies these trends but also imbibes them in their business tops the market share and revenue game.
Alignment with external trends isn't the only thing that is vital for an organisation's growth. Effortless coordination within departments and processes—driven by a specific business objective—is the single-most important factor.
To put it simply, powerful organisations require smooth collaboration.
According to IDC research, over 80% of surveyed business leaders agreed that problems arise because they have different internal systems or applications that don't 'talk' to each other.
So is There an Easy Way Out?
There is. To establish a stronger connection among various departments, and to benefit your entire organisational set-up, business integrations are all that you need. They are nothing but small blocks—software, apps, APIs—which, much to an organisation's relief, align the different applications and data that each department is using.
For instance, while various cloud telephony solutions such as hosted PBX—which is a business phone system hosted completely on the cloud—will certainly boost your internal coordination, you need to integrate your services fluidly with other software for proper functioning.
Imagine easily accessing data from your CRM, ERP, and other tools while using Servetel's Internet-backed communication solutions. Perfection in automation, isn't it?
Three Words — Integrate to Simplify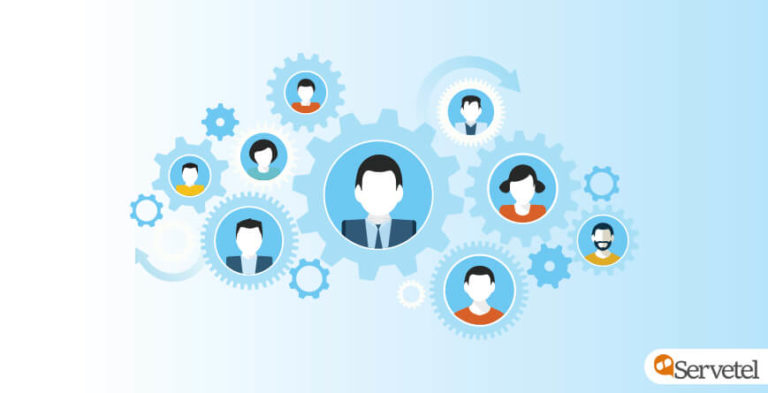 You may sometimes find yourself in situations where you require information to be available on multiple applications. To update information manually on several platforms is tedious, to say the least. However, we also cannot deny the importance of such mundane tasks in our day-to-day operations.
This is where integrations come into the picture.
In addition to the simplification and smoothening of operations discussed above, these tools pave the way for bigger and better benefits to an organisational set-up.
Let's understand a few of these in-depth.
Simple Streamlined Operations
Third-party integrations allow businesses to evolve by simplifying their core functions. They would also come handy when you're in a transition phase and the requirements of your business are bound to change—for the better!
With a well-planned strategy in place, you have the luxury of having everything in one place.
Take HubSpot integrations for CRM and emails as an example. HubSpot CRM allows you to integrate seamlessly with HubSpot Meeting Scheduling App, allowing clients to book meetings with you on a real-time basis while ensuring your availability. Time and effort is saved by eliminating back and forth coordination.
As businesses expand their operations, complexities seem to expand as well, since there are different teams and tasks to shuffle between. Integrations cater to the root of these problems—technical incompetencies—by letting another application compensate for one application's limitations.
Data transportation can be a tedious process. If not implemented carefully, it can lead to loss or repetition of data—all leading to chaos. As chaotic as it may seem, data integration is the only way forward.
Integrations in business aren't only restricted to connecting two or more applications. Their utility goes way beyond. They are inclusive of creating newer ways for all participants of the digital ecosystem to communicate.
Moreover, the business landscape can take advantage of data integration powered to an unimaginable extent. These days while negotiating on an application, the most frequently asked question is: "How much integration is possible?" instead of "is it possible to integrate?" This is how deep the concept is rooted in the digital ecosystem.
Before we understand data analytics, we need to understand why data doesn't work in isolation. Let us draw on an analogy of that. Imagine that you're driving on a foggy highway, with very less visibility. No matter how fast or sturdy your vehicle is, it doesn't make a difference unless you turn on the headlights.
Similarly, when it comes to data, we must understand that without the right tools to exploit the numbers and understand what they mean, they are simply meaningless numbers. Organisations, after all, rely on data for outcome.
Now that we have clarity on data visibility, we can imagine how advantageous it would be to access the complete lifecycle of data for better analytics. A centralised data integration platform gives you the ability to track and control data across numerous applications. The uniformity and easy accessibility help your business reach new heights.
For example, to know more about your leads and contacts, you can create interactive forms and surveys using tools such as SurveyMonkey and integrate those directly with your CRM to have relevant data in one place.
Integrations, if leveraged judiciously across systems and applications, can fuel your business to achieve more with enhanced functionality. Speaking of which—automation has become the most sought after technology, saving us manpower and making our lives easier. Tesla's automation is a phenomenal example of the same.
You'd be surprised to know that the rate of marketing strategies being influenced by artificial intelligence has gone up by 44% since 2017.
Business integrations successfully let you sync data from one application to another, facilitating more fluid operations. You can connect different platforms and build operational flows that align multiple data touchpoints.
As discussed earlier in the article, integration allows the software to 'talk' to each other. However, it does not always mean that the processes they aid are automated. Automation simply means zero human intervention. It is a big step forward in terms of technology when compared to simple integration.
Having said that, the importance of integration cannot be underestimated since automation is not possible without 'communication' between digital ecosystems.
To expand on the subject, let's take an example: you order a shirt from Amazon and you submit your order along with your card details. The order is then received by the vendor's software. Through integration, the vendor is able to pull out the customer's information from Amazon into their ERP system. This connection between these two systems signifies that they are both integrated successfully.
However, how the data is being transferred from Amazon to the vendor would decide if the process is automated or not. If there is a manual intervention in order to update the data from one ERP to another, it's only integration, not automation. But if there is an automatic update of data at a set interval from one ERP to another, we call it automation.
Fun fact: Integration is needed regardless!
Intelligent integrations eliminate redundancy from your operational flow. They replace mundane data entries and transfers with the smooth movement of data. These resources can be efficiently utilised for critical tasks.
A well-integrated business ensures improved connectivity and streamlined communication across varied functions. They save you time depending on other departments to finish their reporting before you can access the work. Therefore, they keep you self-sustained and well-informed at the same time.
Furthermore, connecting various data touchpoints, integration reduces the chance for human error and, hence, saves you the duplication grind. This inadvertently increases your employees' productivity. Moreover, organisations without connected applications often complain about significant costs and increased energy consumption. Integrations act as a saviour for such organisations by reducing costs for newer software and allowing drilling down into valuable customer information.
According to Gartner, integration would account for 50% of the time and cost of building a digital platform. These are truly beneficial tools for virtually every business there is—SMBs, startups, and enterprises—serving any kind of purpose from content reporting and analysing, to marketing.
CRM integrations are the most essential and cost-effective ones—adding to the utility of applications like live chats, videos, calendars, or calling software. With a powerful CRM placed right at the centre of your processes, you can focus on the core functions of your business.
If looked at closely, integrations are nothing but synchronised IT applications in business culture.
Seamless business operations lead the way towards a better working environment and more revenue. However, companies planning to go all-in for such tools should establish a well-deliberated strategy and avoid complications that might arise out of moving data.
Removing bottlenecks brings a host of benefits, essentially making your business more flexible and agile, and less prone to human inefficiencies. Thanks to integrations, businesses can now access the world's finest technology and infrastructure in large volumes without the complexities of running it on-premise.
An Innovation-First Strategy
In the business world, it is often said that innovation starts with well-thought integrations. We're all familiar with innovation and all the turmoil that goes behind the process. Every time we come across a unique product or service, one question pops into mind—"What will they think of next?"
Innovation is tough for sure. But why? A few would argue it's because of the risk involved and others might say it's because of the resources involved. They're both valid reasons.
Usually, innovation is credited to the person generating the idea and the team that puts it together, but we miss the underlying force that brings all of these people, teams and applications together.
Integration opens up a free flow of information from within as well as outside applications, and creates a hub of intelligence across business units. Therefore, it increases collaboration and synchronisation. This kind of swiftness enables businesses to respond to externalities with innovative offerings.
Needless to say, taking a leap to innovate using integration can be risky and requires proper guidance. A well-planned strategy needs to be implemented to achieve optimal results.
As a company grows and expands, its processes become more disconnected and decentralised. In individual functions of departments such as HR, marketing, or finance, there is often use of department-specific applications. This leads to unaligned strategies and wasted efforts of the employees.
Integration aids communication across departments without any manual effort, making workflows flatter and employees more productive. It also improves the data quality and the speed at which you can access it. Better data management leads to better decision making!
The key to achieve higher productivity is a good stretch of uninterrupted operations. Having different applications to toggle between while you work creates distractions. Employees usually lose momentum when they have to switch gears in their minds while jumping from one screen to another.
In the modern enterprise era, integration:
Aids a 'connected business' phenomenon
Lets customers, partners, employees, and internal and external stakeholders deeply engage with the organisations
Lets businesses adapt to changes faster than ever
Opens up exclusive technological opportunities which, when capitalised on, translate directly to better business performance
Taps into latest technologies
Facilitates easy scaling
Saves the cost of on-premise infrastructure
Acts as a unified communication layer between disconnected processes
Brings digital transformation
DO MORE WITH LESS.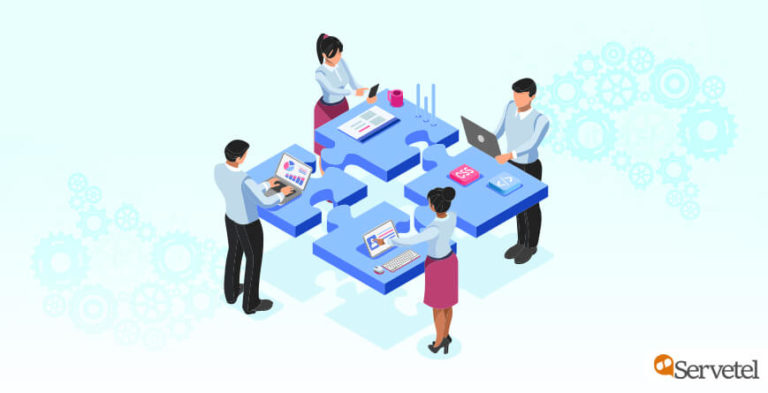 These four words say enough about the potential of integration and what it has to offer. In a time when employees want customer-like user experience from systems, integrations come as a blessing.
For example, customer support tickets are often raised in situations where there is a complaint or an issue that needs to be resolved. Applications like Zendesk or JIRA allow teams to audit and prioritise tasks ensuring faster resolution and a smooth flow.
Yes, integration is the key to a business' success, providing the right information at the right time. However, a successfully integrated business requires a lot of planning and strategising.
Things to Keep in Mind While Adding Integrations to Your Business
Getting users that require access to the business applications on the same platform
Many digital businesses have multiple locations, making connectivity an issue at times
Business integration is supposed to smoothen the workflows, but getting everyone to come together can take some work
Once software integrations are implemented, there could be unanticipated bugs that would need to be ironed out and updates that need to be made
Organisations should not forget a contingency plan in addition to the integration plan Before integration, there has to be a contingency plan for backup, archiving and disaster recovery
Monitoring backups and ensuring legal compliances
Missing out on these can be the biggest challenge for your business.
Overall Value Addition Integrations Brings to Companies
Business integrations are a great way to stay ahead of your competition. It not only provides you with the luxury of accessing all the relevant information at one place, but also ensures the accuracy of it. Consistent data flows also allow your employees to act proactively while handling the customers' issues.
To reap such benefits, a company will need to focus on an effective implementation strategy. Otherwise, it runs a risk of deploying standalone applications that will only lead to more silos.
Furthermore, integration has automated various mundane and routine tasks such as invoicing, order management, supply chain management, financial consolidation, etc., that allow human resources to be diverted to more critical areas in the organisation.
Therefore, industries today can deliver more using fewer applications and systems.
Reach out to us at 1800-120-4132 and try a free demo to learn how you can integrate your favourite applications with Servetel's calling system for flatter workflows!