One integration for all your processes
Cloud telephony and a dynamic social enterprise platform—get the best of both worlds with Bitrix24 by Servetel. This seamless integration lets you handle day-to-day interactions with clients and colleagues while optimising your business operations. With Servetel's cloud solutions on offer, take advantage of an exhaustive toolkit for all your communication needs.
Some features you'll love:
Create tickets automatically for every new or existing lead
Eliminate manual effort and build faster connections with one-click dial
Get a 360-degree view of all customer interactions with detailed reports 
Gain valuable insights with features such as call duration, saved recordings, etc
Stay notified with call pop-ups that display customer information for every caller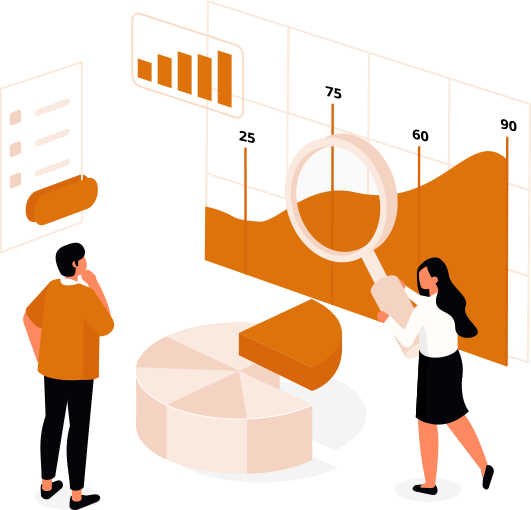 Servetel + Bitrix24's key benefits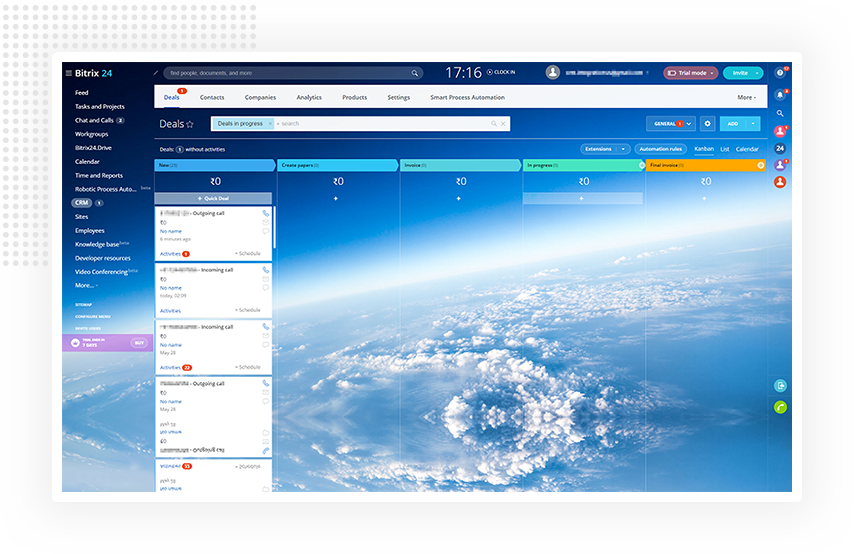 Ace your lead management
Keep track of all your leads effectively with just one single screen. As soon as you receive a call on your Bitrix24-integrated Servetel softphone, a new ticket is generated automatically. Here, add call notes, access call recordings and update details from anywhere and anytime. This way, keep your support team notified about all the latest developments and enable contextual conversations. 
Get better with every conversation 
A truly intuitive integration allows you to deliver better experiences each time—exactly what you get with Bitrix24 by Servetel. Make the most of intelligent technology, deep data insights and smart analytics to organise and enhance your business communication.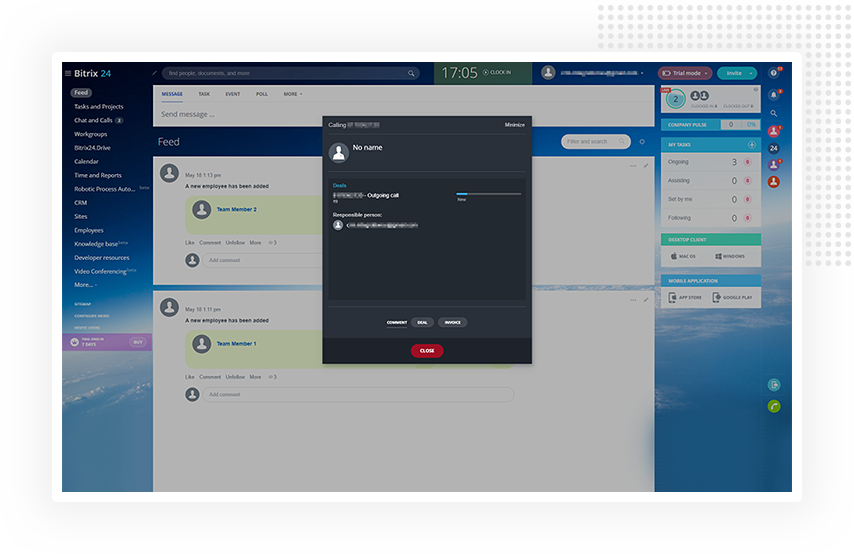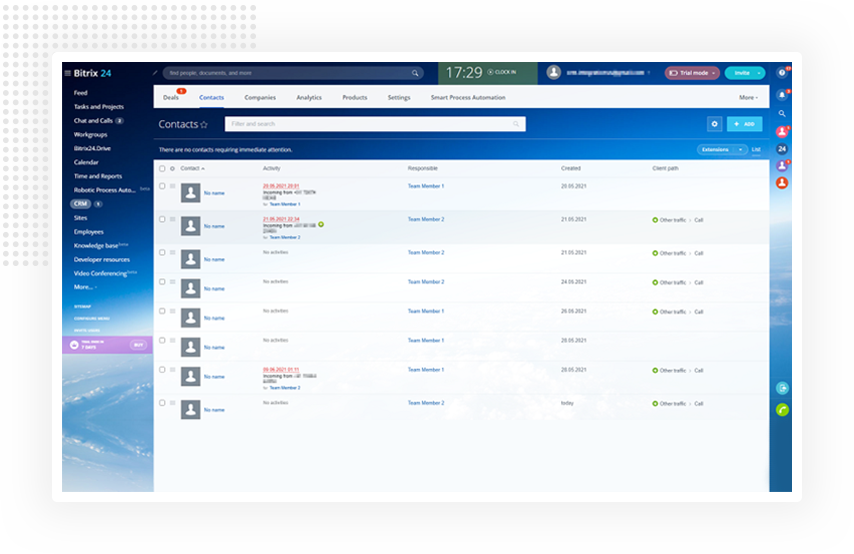 Never miss out on customer interactions
Make Servetel calls directly from your Bitrix24 CRM with the one-click dial feature. And when you receive a call, instantly route your customers to the right destination via Servetel's smart multi-level IVR. Or notify them of your off-hours and allow them to leave messages and queries for your customers. Make sure no call goes unnoticed and no lead is missed.
How to integrate Zoho CRM with Servetel?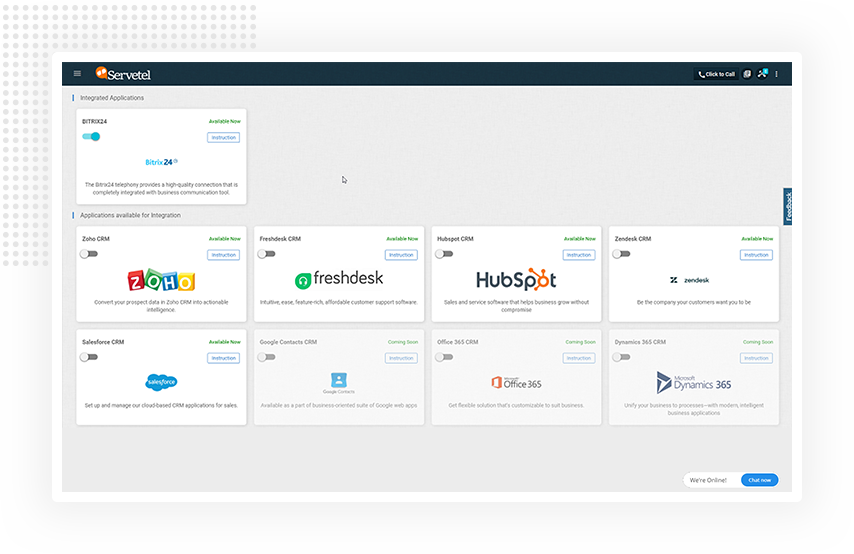 Step 1:
Configure Servetel with Bitrix24
Login into your Servetel account
Under the Service tab, click on Integrations
Select Bitrix24 and click on Instructions
Click on the Enable button to activate Bitrix24 integration with Servetel
Step 2:
Authorise Bitrix24 account
Click on the download icon on the left bar of the dashboard. Select the desired platform for which you wish to install a softphone
Install the application and login with your Servetel credentials
Login to your Bitrix24 account
Enable the integration
When the dialogue box opens, tick all checkboxes and install the Servetel application
Under More tab, select Servetel from the Application section
Login to your Servetel account again
When the authorisation is successful, you'll see a pop-up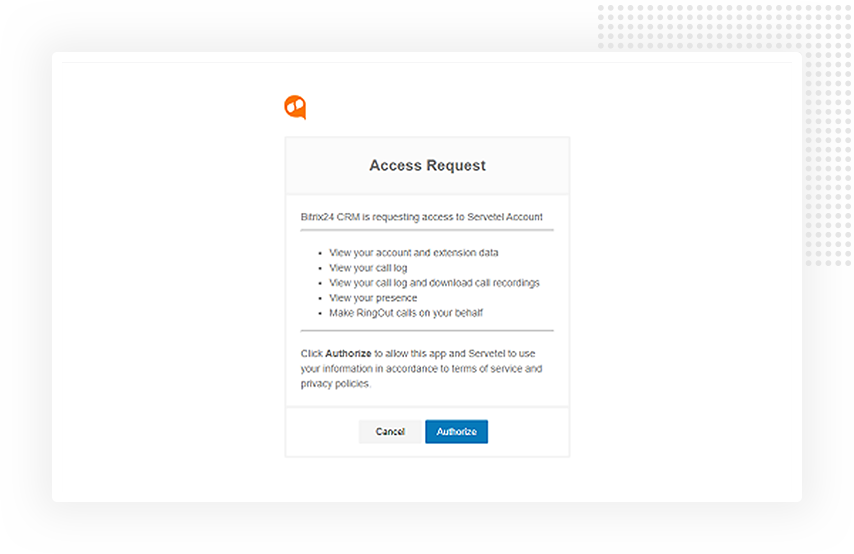 Step 3:
Enable the integration
In the Telephony section, click on More and select Configure Telephony
Click on Telephony Settings and select Servetel as the default number
Click on Telephony User and select Configure. Here, select the number for Outgoing Calls as Servetel application
Select Servetel application and toggle if you want your leads to be saved automatically. Save all your preferences
Talk to us
Wondering how you can use Servetel to your advantage?
Contact our experts to find out.