Unleash the Power of Servetel through a Wealth of Features
Interactive Voice Response
Our intelligent IVR easily routes customers, ensures automation and quick resolution.
Agent Scheduling
Route calls over the IVR to available agents based on their schedule, shifts and knowledge.
Call Recording
Record all calls for quality control, compliance, live monitoring and performance review.
Call Forwarding
Never miss an opportunity. Forward live calls while maintaining a seamless flow.
Number Choices
Your number, your choice, Pick from a range of virtual numbers to find one that reflects you best.
Call Routing
Solve customer queries with ease by quickly routing calls to the best-suited agents.
Real Time Analytics
Track KPIs and varied statistics to get real-time information. Improve as you go.
Live Call Monitoring
Monitor all live calls for better performance and stay updated using our versatile admin portal.
SMS Alert
Remain on top of the situation by receiving SMS alerts for all missed and received calls.
Compact Web Dashboard
Use our access-from-anywhere online dashboard that has numerous features.
Detailed Call Tracking
Keep a track of each call within your set-up so that you're at the top of things.
Call Whispering
You can easily guide an agent discreetly even as they're speaking to a customer.
Our Solutions from the Cloud

Toll Free Number
Have a lot of people to call you when they won't have to pay a paisa to do that.

Virtual Phone Number
Choose a number that you like, which reflects your brand at the same time.

IVR System
Greet your callers and have them swim across a well-designed, simple menu.

Cloud Call Center
With live tracking and analytics, take every possible traditional call centre functionality to the cloud.
Number Masking
Ensure privacy when you use virtual numbers to mask the real numbers of buyers and sellers.

Missed Call Service
Sometimes, missed calls are all it takes for lead generation and many other business functions.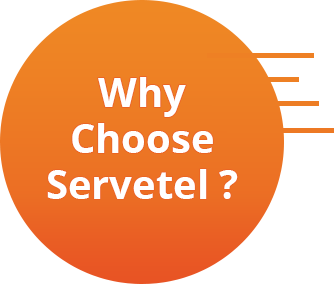 Best-in-Market Pricing
Get high-quality cloud telephony suite with minimal effort and cost investment
99.99% Uptime Guarantee
Servetel offers 99.99% SLA-backed uptime with N+1 redundant infrastructure
End-to-End Customer Service
From research to post-purchase assistance, we ensure hassle-free customer service at every step.
Enhanced Customer Support
Get enhanced live assistance from our product experts over email, chat and call.
API Integrations
Innovate your business solutions with CRM and other third-party application integration.
Get access to fully functional cloud telephony suite along with free SMS & call credits.
Talk to us
Wondering how you can use Servetel to your advantage?
Contact our experts to find out.