Customer service plays a critical role in the success of a business. Excellent customer experience can drive retention and give your organisation a competitive advantage. When it comes to meeting customer expectations, a lot depends on the impression you make at the first point of contact.
An  Interactive Voice Response (IVR) might be the first thing your customer encounters. It comes as no surprise then that businesses are willing to go the extra mile to enhance IVR operations. 
Let us start from scratch and explore how an IVR system helps your business irrespective of the industry.
What is the IVR number?
Essentially, the IVR number means a tool that facilitates business communication through self-service technology. It enables callers to navigate your business phone system and connect with a human operator best-suited to handle their query. 
The automated IVR facility routes the caller to the right department, depending on their input via the device keypad.  Moreover, an IVR system is also able to answer FAQs of customers with pre-recorded messages.
While the traditional IVR system relied on dual-tone multi-frequency (DTMF) tones, it has come a long way over the years. Now, next-gen systems incorporate speech input and artificial intelligence. This enables callers to connect with relevant agents without being limited by a menu. IVR numbers go a long way in enhancing customer experience and showcasing business professionalism, making it a worthy investment for any business. 
Features of IVR 
Typically, IVR systems come with a range of features and integrations that empower a business in more than one way. Here are some you can explore to take your customer service a notch higher: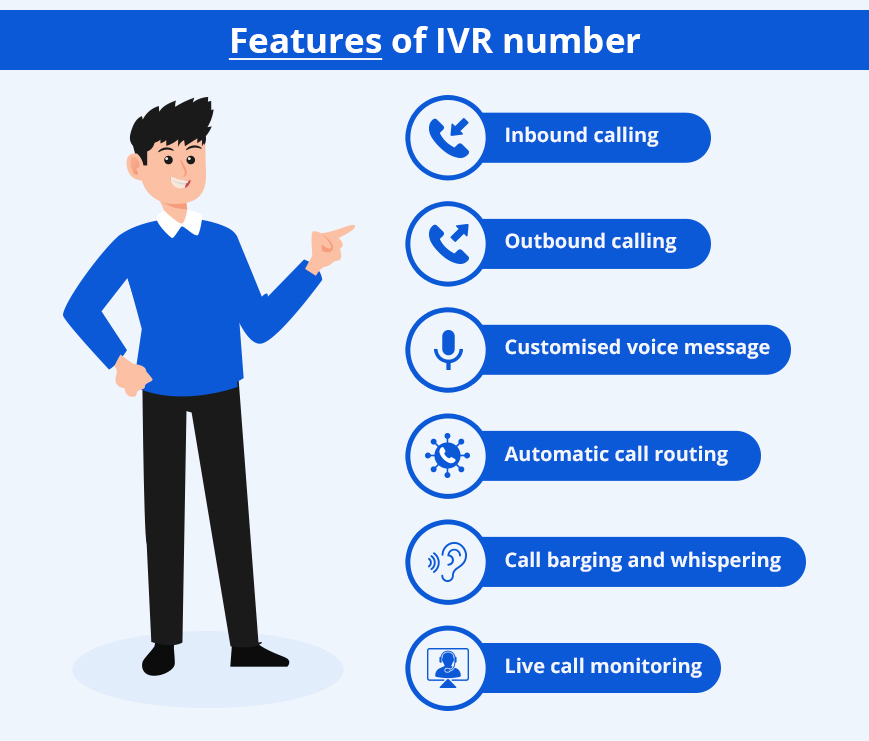 Inbound calling: With this feature, the system handles all incoming calls on the IVR-enabled number automatically. There is no manual intervention in the process. The system asks the caller to select an option in the IVR menu and routes them to the relevant agent or department. The caller can leave a voicemail if an agent is not available to address their queries at that time. 
Outbound calling: The outbound calling feature enables the system to place calls to specific phone numbers automatically. It connects the call to a live agent when a caller selects a menu option for the same. The same feature can also be used to conduct surveys and gather customer feedback.
Customised voice message:A business can leverage a customised voice message feature to greet callers with when they dial the business number. The best part is that the greeting can be created in different languages based on the selection of the caller. What's more––you can use the text-to-speech feature that comes with the IVR if you don't want to record the message yourself.
Automatic call routing: Incoming calls can be routed to the best-suited agent or department, reducing customer frustration, enabling faster on-call resolution, and bolstering efficiency while also saving time for the agents.
Call barging and whispering: Managers can assist agents with customer interactions by barging or whispering during an active call. This helps improve the quality of interactions between agents and customers, reducing the chances of any conflicts.
Live call monitoring: Another feature that empowers call centre managers is a live call monitoring dashboard. It lets them keep track of individual agents and assess their performance with details of their active, on-hold, and historic calls. 
Benefits of IVR
An IVR number is a worthwhile investment for any organisation because IVR offers numerous benefits, both from the customers' and agents' perspectives. Here are some you should know about.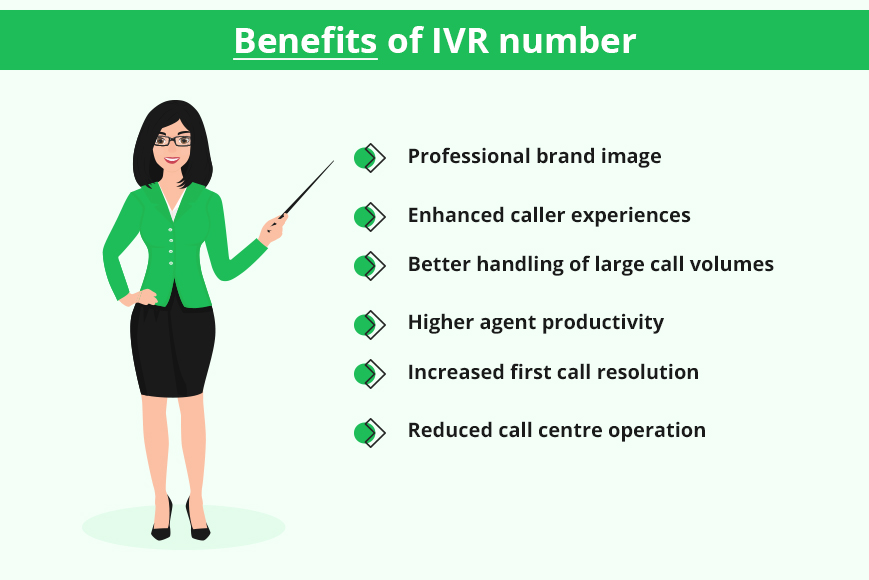 Professional brand image: A well designed IVR enhances your brand image by making your business accessible and available whenever a customer connects. Incoming calls are swiftly and accurately forwarded to the right agent, without any time and location constraints. This is an advantage in pandemic times when agents aren't available in call centres but are working remotely. 
Enhanced caller experiences: A personalised voice message in the customer's language goes a long way in enhancing their journey. Further, it is more impactful when they can directly reach out to an agent or department that is most capable of resolving their queries right away. The interaction is uninterrupted as the callers are not made to hold calls or talk to different people along the way. 
Better handling of large call volumes: Handling multiple calls at once during peak hours can be stressful for call centre agents. An IVR number enables the team to attend multiple calls simultaneously. Additionally, it offers missed call information that agents can use to follow up on customers and resolve their concerns.
Higher agent productivity: An IVR number can maximise agent productivity as well. It empowers them to do more with less. It can automate routine tasks that do not require human intervention. Thus, agents have plenty of time and space to invest in high-value customer interactions to facilitate higher satisfaction and retention for the long haul. 
Increased first call resolution: Since callers are routed directly to the concerned agents and departments, your business can witness a significant boost in first call resolution. It translates into extensive time savings for the business and higher customer satisfaction. 
Reduced call centre operation costs: As callers can resolve a majority of their queries with self-service IVRs, your business can reduce call centre operations costs significantly. Fewer people are needed to handle calls, and agents can focus on calls that really matter, yet there is no compromise with customer experience at any stage of the interaction. 
Industries and use cases of IVR 
IVR-enabled numbers are ubiquitous to customer-facing businesses across diverse domains. Here are some industries where they are widely used along with domain-specific use cases.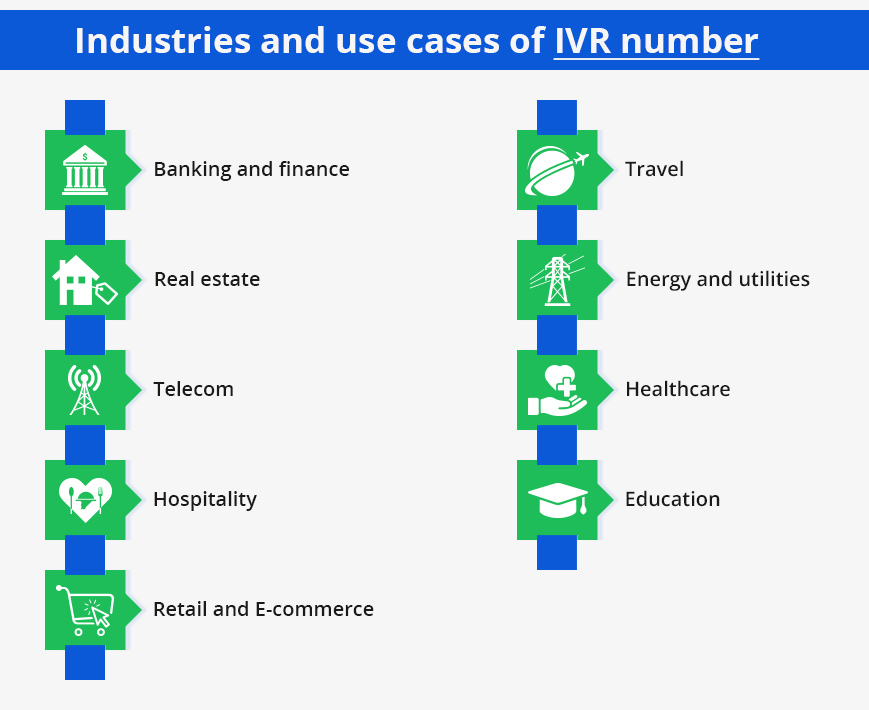 Banking and finance: Checking account balance, transferring funds, bill payments, branch locators, loan follow-ups, insurance claim queries, and customer support.
Real estate: Connecting with real estate agents, enquiring about loans, sales and billing, customer support, and other contract-related services.
Telecom: Queries on new products and services, billing inquiries, customer complaints, plan upgrades, technical support, and various sales-related concerns.
Hospitality: Bookings and cancellations, front desk inquiries, information and room service, housekeeping services, sales, delivery follow-ups, complaints and support.
Travel: Airline and transport bookings and cancellations, cab inquiries, billing and refunds, itinerary changes, and customer support.
Energy and utilities: Bill reminders, complaints, customer self-service, surveys, technical support.
Healthcare: Appointments and cancellations, online consultations, billing, diagnostics, patient queries, report inquiries.
Education: Information, student services and support, fee payments and accounting, tutorials, admissions, exam queries.
Retail and E-commerce: Billing and exchange, delivery issues, returns and refunds, customer service and support.
Recommended Read : How Different Industries Are Using IVR Solution
IVR best practices
Having an IVR number up and running is only half the work done. You also need to follow some best practices to avail all of its benefits. Here are some that deliver the best outcomes for organisations.
Make that best first impression on callers, with a clear, warm, and personalised welcome message

Keep the IVR menu simple and use fewer levels and options

Minimise friction by making it easy for callers to connect with agents

Pay attention to the callers' preferences and adhere to them for subsequent interactions

Reduce the time between call answering and agent availability

Inform the caller about expected wait times during hold intervals

Be mindful and non-intrusive during interactions

Make the IVR system a part of an omnichannel experience 
Recommended Read: Top 10 IVR best practices
The takeaway
An IVR system is a simple offering with many benefits, so no organisation should miss out on it. Integrating it into your business communication programme can elevate your brand's reputation and take caller experience to the next level. 
It is best to collaborate with an IVR solution provider that offers reliable, full-featured, and budget-friendly solutions. Servetel is a name you can trust because it has been serving high-end IVR solutions to organisations of all sizes and scales across diverse domains. 
You can get in touch with one of our IVR experts at 1800-120-4132.