Call center managers have to take a lot of critical decisions to ensure their team delivers exemplary customer service. As easy as it sounds, making these decisions are no cakewalk. You need to have measurable performance indicators in place to assess what is working and what is not working for your call center.
Here is a list of 14 such performance call center metrics that can ease your decision-making process by providing insight about your call center performance.
1.  First Call Resolution
How many times do the customers call your agents before their queries are resolved? If you can solve maximum customer queries in the first attempt, your first call resolution will soar high, and customer churn will dip substantially.
Studies reveal that if the agents can fix customer issues in the first interaction, the churn rate will go as low as 3% to that of 38% in case of the unresolved problems. Among the several formulas used in the industry to calculate FCR, the most-used formula is,
First Call Resolution = Calls Answered in the First Attempt/ Total Number of First Calls
2.  Call Abandonment Rate
Call Abandonment Rate is a crucial metric that gives you a peek into how well you're handling customer calls. It indicates that the callers were trying to connect with your agents but failed because of confusing IVR prompts, long call hold time, or busy tone.
Callers­ who dial wrong numbers are likely to disconnect the call after listening to the welcome IVR, therefore calls abandoned in the first 5-10 seconds are excluded from this calculation.
Call Abandonment Rate = Abandoned Calls/ Total Incoming Calls
The low value of call abandonment rate indicates that no customer is disconnecting the call without resolution. Thus, the lower the value of this call center metric, the higher is the customer satisfaction rate.
3.  Average Speed of Answer
Speed at which your agents answer the incoming calls determines the value of this call center metric. It is calculated as the time taken by the agents to answer customers calls, including the call queue time.
If you've less number of agents to handle customer calls, chances are your average speed of answer will be high. And the higher this values goes, the more alarming it is for your customer experience and business profits.
Average Speed of Answer = Total Waiting Time/ Number of Calls Received
For instance, if you have 100 minutes of waiting for ten calls, this means every caller remains on hold for 10 minutes before their call gets answered.
This value is unacceptable if your call center promises a prompt and quality customer service. Thus, as a call center manager, keeping a tab on this call center metric is imperative for your call center performance.
4.  Queue Time
Another important parameter that decides your call center's efficiency is the average time your caller spends waiting in the queue.
    Queue Time = Total Time Callers Wait in Queue/ Total Number of Calls Answered
The efficiency of your customer service is vastly determined by the time your caller has to wait before getting connected to the company representative. If they are waiting longer than expected, it indicates that your call routing or handling mechanisms need improvement.
5.  Average Call Handling Time
It is a critical call center metric that determines your agent's productivity. The duration of your call is considered as the handling time, i.e., the time from when the call is picked until it is disconnected.
Call Handling Time = (Total Talk Time+ Total Hold Time+ Wrap-up)/ Number of Calls Handled
However, deducing the agent's performance based on this call center metric can be tricky. For instance, If the handling time is high, chances are customer's request was complicated and demanded attention. Whereas, if it is low, it may mean that quality assistance wasn't provided.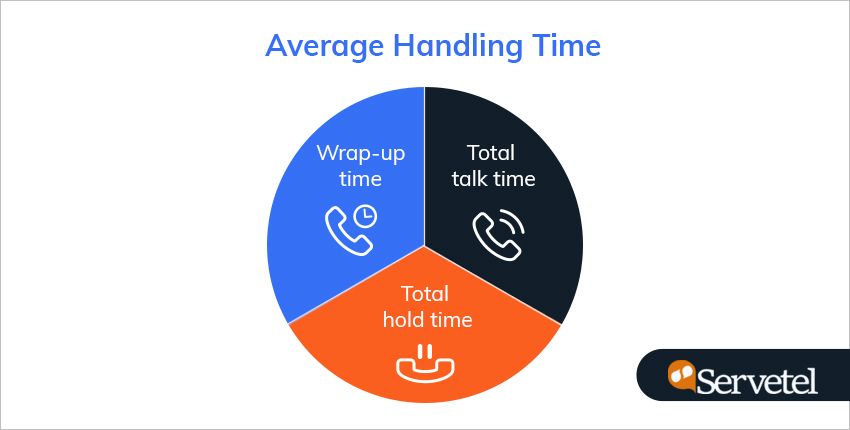 6.  Percentage of Calls Blocked
This call center metric assesses the percentage of customers who received a busy signal in their attempt to call you. A high value of this metric means you're missing on a large volume of customers, which is damaging for your reputation and pockets. And if you struggle to keep this value low, it means you don't have enough agents, or efficient customer handling strategies in place. The lesser the value, the better it is for your business.
Percentage of Calls Blocked = (Calls Missed by Agents/ Total Incoming Calls) *100
7.   Service Level
Service level is defined as the percentage of calls answered within an estimated target time. The faster your agents answer a call, the higher are your service levels. This call center metric is generally used by call center managers to assess the team's promptness in answering calls.
Service Level = Percentage of Answered Calls/ Target Time
If you answer 80% of calls in 20 seconds, your service level is 80/20. Although there is no threshold to achieve, a recommended practice is to reach the mark of 80/20 or 70/30. This mark is a balanced approach to keep your response time high without draining energy.
8.   Wrap-up Time
'After Call Work' or 'Wrap-up Time' is a part of call handling time calculation where the customer is not directly involved in the process. It is a task that an agent completes after the interaction to wrap up the whole conversation.
The wrap-up activities include logging in the customers' detail, conversation outcome, follow-up activities, and other important information. Only when the agents complete the after-call processes, they can answer the next incoming call.
Total time taken in logging in conversation details (customers name and details, conversation outcome, follow-up activities)
9.  Occupancy Rate
Occupancy metric is used to understand how much of the agent's time is occupied in attending calls. It's the measure that checks your agent's efficiency during the working hours.
Occupancy rate = Total Call Time/ (Total call time + Available Time)
For example, a low occupancy value (<70%) reflects that agents are not attending calls and are idle majorly during their working hours whereas a high occupancy rate (>85%) reflects your agents are exhausted with calls. A healthy occupancy rate lies between 70% – 80%, which means your agents are not under or over-utilised with the calls.
10.  Customer Satisfaction
This metric is calculated by sending out post-call survey forms to the customers. As soon as your call with the customer disconnects, a survey is texted on their number to evaluate their satisfaction with the delivered customer service.
While other call center metrics can be calculated to understand the quantitative aspect of your delivered service, customer satisfaction metrics informs you of the qualitative aspect. Generally, these forms are comprehensive, which include all the quality parameters.
11.  Conversion Rate
It is one of the most sensitive call center metrics which charts the growth of your business. A low conversion rate pulls your business profits down, whereas a high rate pushes it towards the growth. It is generally calculated as the percentage of calls or incoming leads that end up purchasing your product. However, conversion targets for every call center might differ depending upon the service they provide.
In the case of sales, the conversion rate can be calculated as
Conversion Rate = Total Number of Sales / Number of Leads * 100
But for support call centers it is determined by the number of successfully closed queries.
Conversion Rate = Total Number of Closed Queries / Number of Incoming Queries * 100
12.  Cost Per Call
Running a call center is an expensive affair. From employee wages to electricity costs, there are a number of expenses involved in the running of a call center. Here, cost per call provides you insight about the ROI of the involved expenses.  Unlike other call center metrics, it has a simple calculation.
Cost per call = Total Call Center Cost / Number of Calls during the period
For example,
If your call center has a total expenditure of $70,000 in a year and answered calls during this year is 100,000, then cost per call comes out to be $0.70 per call.
13.  Agent Attrition
Attrition is the rate at which your call center agents are leaving your workforce. For your call center, it can be the most critical call center metric that evaluates the quality of the work environment. Studies have also shown that the success rate of your organisation is co-dependent on the attrition rate. According to a customer service report rolled out by BenchmarkPortal, 69 percent of respondents agreed that attrition hinders their way to success.
Attrition Rate = No. of employees that left during a time period/ Average number of employees for that period
14.  Agent Absenteeism
Unauthorised or unapproved absence of agents from work counts as agent absenteeism. Reasons such as unpaid sick leaves, late arrival at work, unapproved holidays, family emergency and more, are included in the absenteeism calculation.
Unplanned agent absence is expensive for the business as it demands last-minute backup arrangement. And it also hampers the agents' productivity who fills in for the absent agent.
An exception in the absenteeism calculation is paid or approved holidays. These types of leaves are planned in advance which gives managers significant time to prep the backup and prevents any hindrance in the smooth running of the call center, beforehand.
Agent Absenteeism = Number of hours taken off for unauthorised absence/ Total hours logged in by the team over the same period
Call us at 1800-120-4132 to know more.