Nearly a year ago, the entire world came to a sudden standstill. The COVID-19 pandemic forced us to revamp our lifestyles. This change was especially challenging for supermarkets and retail stores which primarily dealt with on-premise purchases.  
As customers hastily switched to different modes of shopping, businesses swiftly adapted to cloud telephony in order to sustain themselves. However, with vaccination drives in full throttle, 2021 brings with it new hopes. 
In this time, retail chains have the opportunity to streamline their operations and increase profits. They can optimise their supply chain and offer virtual as well as physical modes of shopping. Hence, this is the right time to capitalise on the gradually increasing customer traffic and provide customers with a safe and efficient shopping experience.
So, let's take a look at the different ways in which cloud telephony solutions can help your business transform into a COVID-sensitive store, ensuring the safety of your staff and customers alike.
1. Give your customers an easy way to obtain information
Supermarts and retail chains are undergoing rapid changes in working hours, product availability, staff attendance, etc. In light of the said changes, it is imperative that businesses offer their customers a convenient way to get relevant information and updates.
Cloud telephony's toll free number service gives customers a free medium to get all the latest details—24×7. A zero-cost solution further adds to your brand image and highlights your dedication to quality customer care. 
In addition, businesses spread across the country can benefit from a centralised toll free number that streamlines call flows and can become synonymous with your brand's identity, owing to its high recall value. 
2. Streamline customer journey
Since the lockdown last year, customer transactions have moved to alternate mediums. This has led to an exponential increase in the number of calls received by big and small retailers alike. Businesses must adapt to this change and make customer experiences as smooth as possible.
Cloud telephony's IVR technology can help businesses achieve smooth call flows and hence improved service. It automatically answers all incoming calls and presents the shoppers with a navigable virtual menu. As per the response received, the call is then transferred to the desired department or agent.
IVR number helps enhance the brand image of your store while also providing customers with a fast and convenient self-service option. Therefore, whether they're accessing FAQs about the store or getting updates regarding a previously placed order, everything is quick and convenient.
3. Revolutionise ordering and ensure privacy
Online orders are the norm for modern purchase cycles as customers are increasingly opting for home-delivery. However, this comes with its own set of challenges. Incomplete or incorrect orders are a common problem that result in poor customer service. Given the large variety of products and the fast-moving nature of end-customer retail, it can be difficult to regularly update online ordering portals. 
Businesses can utilise bulk SMSes and outbound IVR to confirm orders and inform customers of any missing items or other concerns. Buyers can further use the same medium to request for a replacement or raise queries. Such end-to-end services go a long way in establishing long-lasting relationships.
Furthermore, a smartly designed IVR menu can also be used to place orders for essential items. Teleshopping is a big boost in areas with a weak or unstable Internet connection.
Another challenge with at-home-deliveries is the potential misuse of customer or agent information and cyber-theft. According to an NCRB report, the number of cybercrime cases in India went up by 63.5% in 2019. 
Number masking and OTP-verification can emerge as a business's greatest ally in this scenario. Number masking technology hides (or masks) the number of the delivery agent and the customer. This substantially reduces the possibility of fraud or misuse. And OTP-verification through SMS at the time of order payment and delivery adds to the overall security of the transaction.
4. Enhance your marketing campaign
Businesses across industries face a common problem. With numerous campaigns running parallelly, it becomes difficult to track progress and analyse returns for each. Efficient analytics are imperative for running a successful campaign.
Virtual numbers are a handy way to keep tabs on all your marketing initiatives. All incoming calls are swiftly forwarded to your existing business number, hence, ensuring zero disruption. You can use different virtual numbers for hoardings, newspaper ads, etc. and get a clear idea of the leads generated through each.
It's also a good idea to personalise your campaign by integrating a CRM system (customer relationship management. This provides your agents with customer information and details about prior transactions, if any. This facilitates superior service and speedy resolution.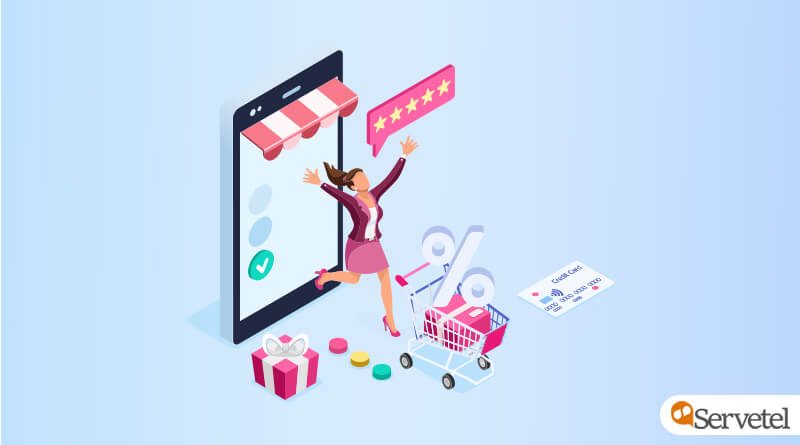 5. Ensure social distancing in stores
Customers are gradually returning to shopping physically in stores. It is imperative that businesses ensure social distancing and frequent sanitisation for the safety of their patrons. One way to achieve the same is to allocate different slots to buyers and prevent crowding within the store. This will also allow your in-store agents to provide better one-on-one assistance.
Businesses can use cloud telephony solutions, namely bulk SMS and IVR, to quickly incorporate the aforementioned model into their operations. Customers can call in to request a particular time to visit the store. Based on the availability of slots, these appointments can be confirmed via automated outbound calls and texts. These products can also be used to send timely reminders.
Conclusion
In conversation with Servetel, customer service experts Shep Hyken and Frank Eliason said that in the post-COVID era, customers would favour brands that are:
Flexible with their business model

Innovative with a focus on the needs of the customer

Mindful of the health and safety of all the stakeholders
These tips are especially crucial for retail enterprises that thrive on positive and long-lasting customer relationships. Tech-driven automation and realisation of customer expectations is the need of the hour.
Cloud telephony solutions—through their versatile and powerful products—will help businesses make the necessary jump. These solutions fit pockets of all sizes and will give you the returns you aspire, even in the current economic climate.
So act now, before your competitor takes the lead! Call our sales team at 1800-120-4132 to get a free demo today.