It's true that the world as we know it has transformed—perhaps irreversibly! Despite the continuous changes, one thing that remains constant is the human race's ability to adapt.
During the COVID-19 pandemic, businesses have struggled and experienced considerable financial shocks. It would be an understatement to say that both lives and livelihoods have been seriously compromised.
The fear of unemployment and financial crisis among the general public is spreading faster than the virus itself. The impact of hysteria is not only limited to consumers but is also evident in the daily operations of businesses around the world. In order to maintain business continuity, firms are adopting newer methods for managing a remote-work culture.
However, just as the 'new normal' cannot do without remote working, remote work cannot do without cloud technology.
Cloud has emerged to be the foundation your business needs to make this digital transformation possible. It essentially frees up organisations from the hassle of on-premise infrastructure and aids remote working, which is the obvious need of the hour.
    "Every problem is a gift—without problems, we would not grow."

– Anthony Robbins
That's the lens businesses need to use to view the current scenario. The key to survive and thrive is to look for long-term sustainable solutions. Cloud telephony perfectly fits this quote by facilitating business continuity.
Implementing cloud telephony solutions not only assists you in setting up a remote workspace for your team but also shows your concern for their mental and physical well-being. It's definitely a smart investment.
In addition to being an apt investment, there are many benefits of cloud telephony. A few are listed below:
Quick set-up and zero installation charges to get the system up and running
No infrastructure requirement which saves major chunks of costs for SMEs and start-ups
The easiest solution to scale up or down according to your business requirements
Round-the-clock availability for assistance
Professional IVR set-up to boost brand image
Flexible integrations with other software like CRMs or ERPs
However, the benefits aren't limited to these points; there's a lot more in store for you.
There's no scarcity of write-ups about cloud solutions and how they add value to business operations, especially in the times of COVID-19. However, equally essential are the steps to keep in mind while implementing cloud telephony for your business.
Below are the steps needed to ace your business communication with these solutions in the long run.
1. Identify the Need: Inbound Versus Outbound
While the ultimate goal of every smart business is customer satisfaction, the way to achieve this varies greatly. And yet, when it comes to customer service, the one channel whose popularity and efficiency hasn't budged is our trusty phone. Most customers would agree that when they're in a bind, they'd rather pick up their phones and talk to a real person instead of chatting with a bot or skimming through whitepapers.
This is how important telephonic communication is for customer retention.
Now that we are clear with the basics, let's dive deeper into the need for cloud telephony and how to identify it. Internet-based solutions provide a holistic communication suite for your business—inbound, outbound, SMS alerts, missed call services, IVR systems, and much more.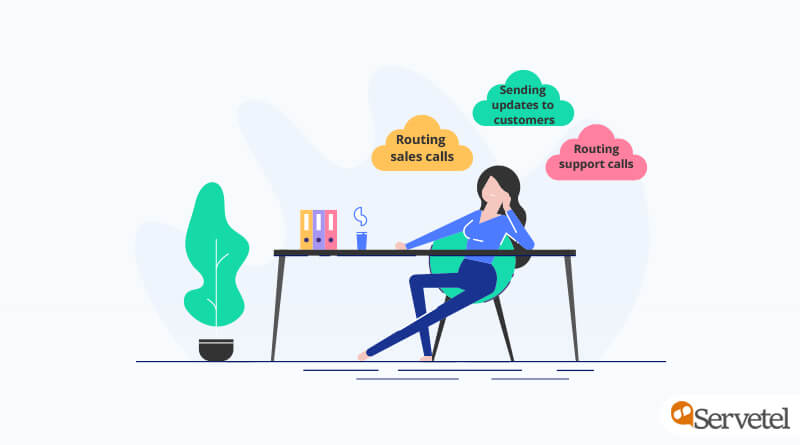 To establish a clear purpose, ask yourself and your team these questions:
What will be the purpose of this cloud telephony service?
What are our goals and objectives?
Does our overall business mission align with the mission of this service?
How will we measure its performance or success?
These answers will serve as a valuable blueprint for scaling the services in the long run, as well as for measuring their business impact.
2. Select The Right Vendor
 Just like for every other product available under the sun, there are more than a thousand cloud telephony providers as well. How can you choose the perfect fit for your business?
Why not use a checklist to answer the question? Ironically though, your checklist will also comprise a few questions for your service providers.
Does your provider support call recordings?
Is it flexible enough to be integrated with other software?
Is it scalable according to the business needs?
Are SMSes included in the services you are opting for?
How will the API integration work?
Is there a support team strong enough to back your solution up?
Of course, the list doesn't really end here. The more detailed and descriptive your questions are, the easier it would be to evaluate vendors.
Other factors for evaluation include call rates, delivery time and charges, and additional features.
3. Scope for Customisation
A cloud telephony set-up is generally effortless and easy to manage. What if, in addition, you could also customise it? That's the dream, right? Yes, it is a solution that offers the highest possibility of customisation according to your business requirements.
We live in a world where everyone wants it "their way" and therefore, customisation is naturally expected. For instance, let's take something as basic as eating out from a pizza place. You have your own taste for toppings: more avocados, lesser tomatoes, no pineapple, and so on.
Contemporary consumers expect the ability to customise anything and everything to fit their own set of preferences.
However, customisation can often be confused with personalisation—they aren't the same!
Customisation is everything a user can do themselves. Users should be able to adapt a product or service to their own preferences and exercise control over their own experience with it. It increases their happiness and engagement.
Personalisation, on the other hand, is a way to meet the customer's demands more efficiently, making interactions more fun and engaging, and consequently enhancing their experience with the brand.
Smart businesses leverage customisation to create a bespoke solution for their clients. The same is possible with products and services offered by cloud telephony providers. You can set up your own IVR recording, curate SMS templates and create your own reports with specific parameters.
The more you play with these customisation abilities, the better your experience!
4. Scope for Scalability
Scalability, in its literal sense, is the capability of a solution to handle an increased amount of work, or its ability to accommodate growth. It is a key aspect to evaluate your software. However, scalability is not apparent from the get-go, which is why it's often neglected in the planning stage.
Nevertheless, growth is inevitable and it hinges on the software's ability to handle a mounting volume of data and increased number of users. If your telephony solutions cannot handle increased market demands, you can lose efficiency, or the quality of your customer service will suffer. All this leads to poor customer relations and a negative brand image.
With the scalability of cloud solutions at hand, you don't need to worry about volatile market trends. Be it rising demands or shifting customer preferences, the cloud has got you covered!
You can easily scale up or down depending on market externalities. It is an imperative aspect to keep in mind while setting up your contemporary telephony suite.
5. Scope of Integrations
Integrations are a great way to have an edge over your competitors. They give you the luxury of accessing all relevant information in one place, while also ensuring accuracy. Mundane tasks are automated, which saves a lot of time to be utilised on important tasks.
An integration facilitates systems that can "talk" to each other seamlessly and share data in real-time. Cloud technology is fueled by these statistics and can be well-leveraged with judicious use of integration capabilities.
Therefore, while setting things up for your communication solutions, always look for maximum integration potential. This would open up a free flow of information and allow its seamless movement across important verticals.
Other Important Considerations
In addition to the steps we've discussed so far, there are other important factors that act as a differentiating point:
Price of the service
Additional features
Customer support
Brand reputation and reviews
Offered discounts and freebies
Data security
Privacy concerns
The list can go on and on. Make sure you have everything documented by each service provider to avoid conflict and confusion.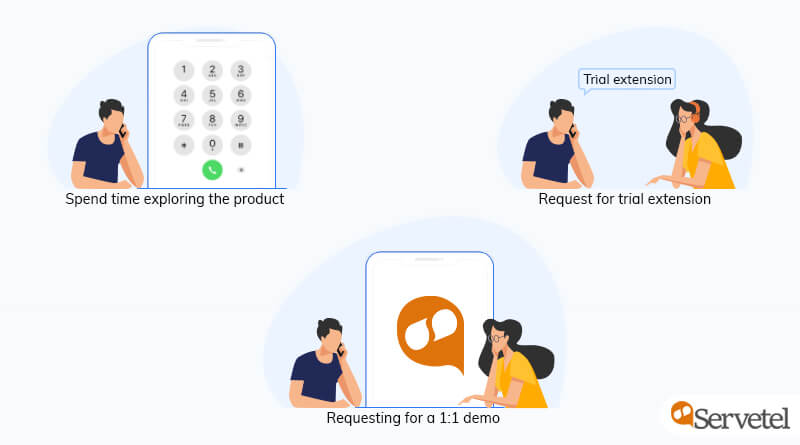 Put Cloud-telephony to Work!
After going through this extensive analysis, it's time to get on-board with your service provider. Now you just have to put your cloud telephony solution to work, and you're sorted.
Wholesome communication is very important for all types of organisations. The way your agents handle callers is a representation of your company. These agents also possess the power to change every caller into a promoter or marketer for your brand.
Therefore, empowering your agents with the proper tools can take your business to the next level.
Contact our sales team at 1800-120-4132 right now to learn more.