On average, 16% of all SMS exchanges in the world are with businesses. That figure does vary by region: the ratio is 22% in APAC, while in the US it is 12%, and EMEA registers at 15% – one in seven messages.
SMS marketing campaigns have become widely popular among the corporate echelons over the years. Unlike other forms of customer engagement like TV, radio, newspaper, and e-mail advertisements, where the customer (audience), usually neglects or ignores such promotional messages. But with SMS promotional and engagements campaigns businesses can expect high open rates and immediate dissemination of promotions.
In this article, we shall discuss SMS Marketing and why it is the next big thing in Mobile Marketing strategies, along with the various business advantages it can bring to a business. But if we are going to talk more about the business applications of SMS Marketing or business SMS (Bulk SMS), we should first talk about the types of business SMS (Bulk SMS).
Basically, there are two distinct types of bulk SMS marketing campaigns, namely, Transactional and Promotional.
Transactional Bulk SMS
Transactional Business (Bulk) SMS, as evident from its name, are transactional in nature. This type of SMS marketing is typically done by businesses to inform their registered users on the status of their transactions. They may include billing information, order status, and other such information. This type of business SMS are only meant to be sent to registered customers, with the intent to inform and helps businesses create more goodwill amongst their customers.
Read: SMS guidelines in India.
Promotional Bulk SMS
Promotional Business (Bulk) SMS, again as evident from the name, are promotional in nature. Businesses often use them to promote their products/services along with other promotional offers or deals. The concept of Promotional Bulk SMS is somewhat similar to common advertising. But the best thing about Promotional Bulk SMS is that it enjoys very high open rates.
Now that we know about the two types of Business (bulk) SMS, let us now discuss the business advantages of SMS marketing (Bulk SMS) and why it the next big thing in mobile marketing.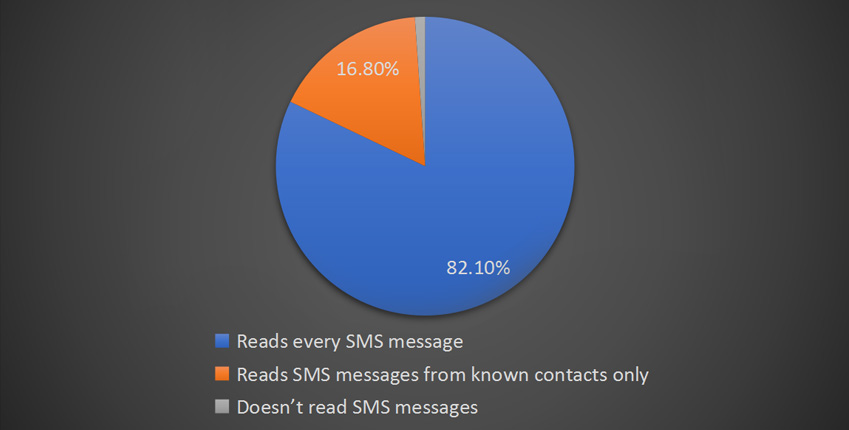 Source: shiftcomm
The graph below showcases the usage pattern for SMS messages, as of 2015.
Immediate Engagement
As we all know that text messages usually get delivered within seconds. This, along with the fact that, everybody who owns a mobile phone, usually have it on their person at all times, or are in close proximity to it. This way, business SMSs (bulk SMS) are considered to be read by the recipient customers, almost instantly. According to IDC, a market intelligence firm, close to 62% of smartphone users check their phone every day after waking up, while 79% of smartphone users check their phone after 15 mins of waking up. This evidently makes business SMSs (bulk SMS) the quickest medium for instant and immediate communication.
Higher Open Rate
The average open rate of emails is somewhere around 27.2%, whereas, direct mails experience an open rate of 91%. Bulk SMSs, with a whopping 95% average open rate, beats conventional customer engagement channels and their respective open rates with a considerable margin. Although emails, and other customer engagement channels are still quite relevant for effective business marketing strategies, there is no denying the fact that bulk SMSs enjoy greater open rates and immediate delivery and engagement.
Higher Engagement & Response Rate
A survey by Direct Marketing Association reveals that direct emails usually have a response rate of 3.42%. Another survey by Mobile Marketing Association, showcases that customers are 5 times more responsive to SMS marketing, compared to direct email marketing. This is basically due to the fact that responding to SMS (text) messages is much easier for the customers and usually takes seconds, which is not the case with other marketing and engagement channels. This way bulk SMSs ensure that the subscribing businesses enjoy higher customer engagement along with higher response rates.
To conclude, business SMS or Bulk SMS services and solutions used for marketing purposes can help businesses to not only generate and maintain customer loyalty and goodwill, it also helps them to project a more professional and credible image to their customers. It also enables such businesses to enjoy greater open and response rates along with the ability to engage their customers immediately through a friction free and hassle-less communication channel.
Implement SMS marketing for your business with Servetel. Contact us at 1800-120-4132 to start your free trial.