Ever wonder how an enterprise manages a haystack of calls, while only employing a handful of operators?
This is done via automation, and one of the perks of automation is interactive systems. An interactive system facilitates interaction between humans and computers. The first interactive systems were a Graphical User Interface (GUI) that one uses every day in the form of Windows and Android operating systems.
With time, these interactive voice systems have evolved. One such evolution has been in the form of Interactive Voice Response (IVR). It is a voice-based interactive system that allows a human to interact with the system by passing input at each step. IVR system has become a preferred choice for customer service departments due to the ease of communication it provides. These systems automate a lot of manual day-to-day tasks and thus are widely used by call centres nowadays.
Below let's understand how interactive voice response (IVR) has been boosting the call centre's overall performance with its automation.
1. Increased Customer Satisfaction
With IVR, a person interacts directly with the system, basic queries get resolved without human intervention. The ability of interactive voice response to handle multiple clients along with the ease of operation ensures that a call centre enjoys a happy clientele.
Although the messages are transmitted with the help of machines, it does not imply that the messages cannot be changed or personalised as per our needs. Every message can be personalized based on customer's or businesses' preference. This means business can provide a familiar touch to their customers by customising the messages.
One of the biggest advantages of using IVR lies in the numbers. With IVR multitude of calls can be answered and routed simultaneously to the appropriate department.
Without IVR, it is difficult to route calls to the right department. Many-a-times customers aren't even aware of the departments which can handle their queries. Hence they end up calling the wrong department, leading to confusion. This causes an incorrect redirection by an operator, following which there is a chance that a customer might loop in wrong departments before reaching the appropriate department. With Interactive voice response, the call segregation happens in the following manner.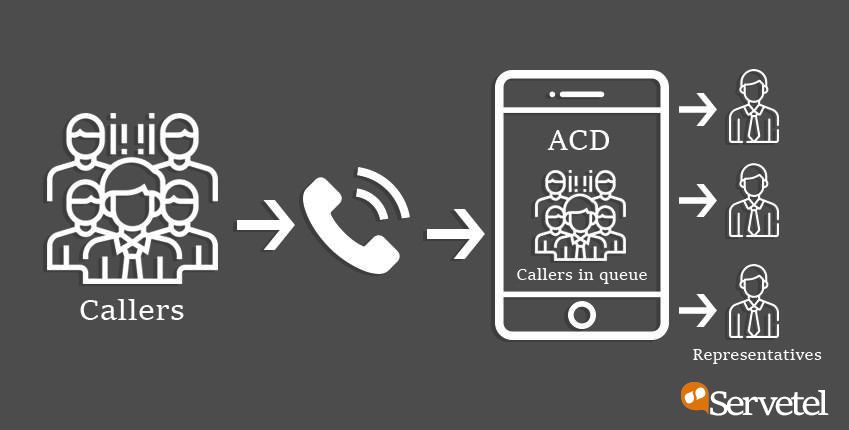 In this process, no workforce is invested upon routing. Also, in all inbound calls, the first respondent is IVR, i.e., all basic queries are handled by the IVR. Only cases that require complex reasoning are handled by agents.
Auto Call Distribution (ACD)
ACD is an intelligent system that forwards calls to the most appropriate agent. It is the backbone of call centres, as it identifies callers and based on their demands routes the call to the required department. ACD can identify a frequent or priority callers based on their number and can move their calls up the queue.
2. Enhanced Performance
With an organised menu structure, Interactive voice response on its own can sort most customer queries which increase the overall performance of the call centre. Thus, a call centre can now employ most of its workforce towards queries that need special attention, and which cannot be performed without an agent's assistance. Hence, IVR can exponentially improve the performance of the call centre. As a result, it reduces the burden of the agents in the following way:
Implementation of IVR requires a lot fewer agents which cuts down the business expenses by a substantial margin.
An IVR is programmed in a manner that serves both the client and the agent. When an agent receives enquiries of their expertise, they can work way more efficiently. To most businesses, this is a major step toward empowering agents.
3. Decreased Avg. Handling Time
Average handling time is the average of the total in-call time of every agent. This is the total time spent on a call, from the moment the call was answered to when the call gets disconnected.
IVR greatly reduces the average handling time of the call centre. Most of the times a customer does not need to talk with a representative. Also, since ACD technology diverts the call to the best-suited operator, the time required to resolve the issue is minimized.

4. Decreased Call Abandon Rate
Abandon rate is the percentage of incoming calls that are abandoned by the call centre before connecting with an agent. In the call centre, the maximum number of calls answered simultaneously is the same as the number of active agents.
For instance, if a company has 100 lines but employs 20 operators, only 20 simultaneous calls can be answered. However, with IVR in play, every call is answered irrespective of the queue size.
5. Increased Process Efficiency
By routing calls to the right departments, and by resolving most queries at the interface itself, a call centre saves much of its time and money. This lets the agents be involved in high-quality customer service tasks.
6. Pre-recorded Messages
With IVR a company can use pre-recorded messages. These are especially handy when a company needs to advertise or introduce new offers. For instance, in an upcoming festive season, a company can record a bunch of messages and play the desired voice messages at the most suitable moment.
7. Call Routing
A much important aspect of a call centre is the constant efforts to improve their agent's performance.  For this, a call centre needs to keep track of all the calls and analyse them thoroughly. With IVR System, every call gets recorded automatically. Most IVR providers don't implement any additional fees for call recording. This ensures a smooth and hassle-free improvement in services.
8. Outbound IVR
Although inbound IVR is quite helpful when considering the abundance of incoming calls, outbound IVR is extremely beneficial for outgoing calls. With outbound IVR, a call centre can send basic reports, collect survey responses, and provide alerts and reminders. Also, by integrating CRM with outbound IVR, a call centre gets to reduce the dependency on agents and still manage to deliver personalised messages to each customer. Outbound IVR is not that largely discussed, however, its role in the betterment of customer service is immense.
Take Away
By now it is established that a call centre benefits immensely from interactive voice response. Where inbound IVR is extremely important for handling all inbound queries and suitable routing of calls, outbound IVR simplifies the tasks of outsourced call centres. In today's day and age, an IVR is not just important but has rather become a necessity for call-centres.
Want to know what more an IVR solution can offer?

Call us at 1800-120-4132.