What is call tracking? 
Call centres are the frontline workers for your business service. They are often the first touchpoint for customers for both pre and post-sale activities. With the right marketing practices, calls within a contact centre can increase. Call tracking software is nothing but a tool to analyse these inbound calls. 
Reports suggest that inbound calls have a 30% higher conversion rate than other web activities. But what marketing campaign or tactic led to a particular phone call? Did the call result in a conversion, or was the client lost?
To answer these questions, you need to implement a call tracking service. It will show which ads are generating calls to the business, allowing you to focus your budget on what works and attracts qualified leads. You can integrate call tracking software into your CRM and analyse the customer journey from your online dashboard. 
Having the ability to track the customer journey provides numerous advantages, such as:
Customising communication for various audiences

Saving time and money on attracting quality leads

Increasing sales and customer satisfaction
Now it's time to concentrate on call tracking metrics that can help to improve your marketing campaigns and inbound strategy.
6 most important call tracking metrics to measure
1. Call volume
Call volume is the total number of calls a customer support department handles in a given period. Many businesses divide their call traffic into two categories:
Agent-answered calls

Automated system-processed calls, like those from

interactive voice response

(IVR)
This metric shows attribution statistics. It defines the success of specific ads and the contribution each advertising channel makes to sales. This information helps you better analyse your return on investment (ROI).
Detailed call volume reports reveal crucial call trends and are just as vital as collecting data on website visits. Suppose you are conducting A/B testing. Then, the number of calls illustrate the visitor's reaction to your changes and helps you determine whether to introduce the modifications or leave things as they are.
Although the connection between increased calls and a new CTA isn't so explicit, it can give insights into what works and what doesn't.
Another benefit of measuring call volume is tracking SEO and PPC progress. Let's take a Google My Business account as an example. How will you optimise it? The steps include:
Filling the forms with clear information

Adding fresh images

Responding to all comments and reviews
But are these undertakings beneficial? Call volume, along with other figures, will answer this question. If they increase, you can set new goals for driving more calls. 
Refer to the image below that demonstrates how call tracking tools can represent call volume.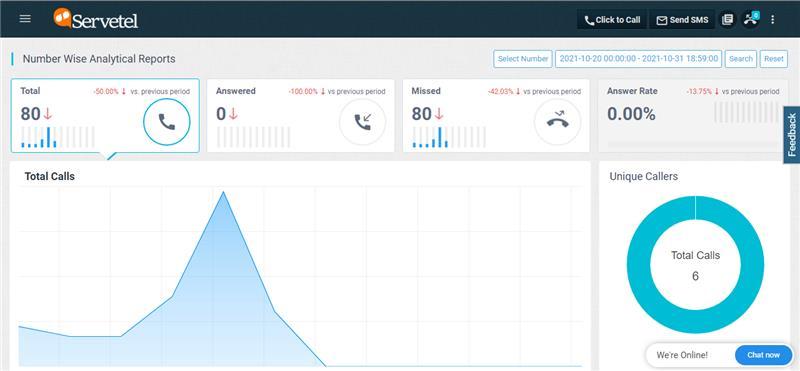 2. First-time callers
These are people with no prior experience of communicating with a company. First-time callers represent new business and potential buyers, so they require a different approach compared to repeat callers.
Existing customers are familiar with a particular account manager or support agent, so you direct them to their partners. On the other hand, first-time callers may require a specific type of business sales agent.
But there's more to success than just a proper communication strategy. Callers have patterns that you can translate into data. This information helps customer service employees in providing the next first-time caller with a better experience.
Another piece of advice is to leverage whisper messages. These are notifications to customer support representatives that offer information on what ad the caller interacted with before dialling your number. 
For example, a new lead clicks on an advertisement for an "eCommerce security audit." The recipient will know how to serve that caller's needs best or send them to the appropriate department.
3. Call duration
Having a lot of calls a day is good. But is there any sense in them if they last for less than a minute?
The link between duration and conversion is direct. The longer you communicate, the likelier the conversion. An uninterested customer won't waste that much time talking to the company.
Try to engage callers in long, but meaningful conversations. And here, I emphasise that extending your discussion just for the sake of duration is out of the question.
An appropriate call duration means a support representative covers all the needed information, be it a sales presentation or a customer support call. What does the buyer need to hear? What time does the specialist need to say it while being concise?
Finding the right balance of content and duration will keep customers engaged and interested. Missing the mark will frustrate them.
The below image illustrates Servetel and Zoho integration to understand how long each call lasts and which campaigns result in the most successful calls.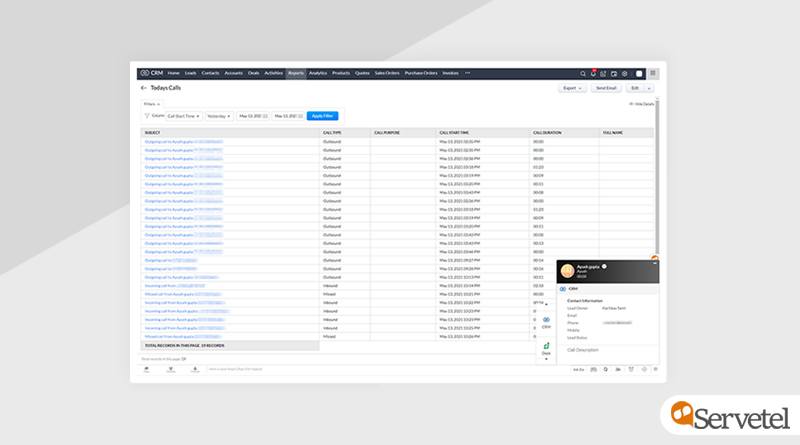 4. Call location and time of day
How can call tracking boost marketing? It tells you when most conversions take place. While tracking the time of the day may seem frivolous, this information is essential for any advertising campaign, regardless of the services or products you offer.
This data shows if there's a link between call frequency and the time of day. For example, do you have a spike in calls in the evenings or on Monday mornings? When does the demand for the services increase or decrease? Track these trends and use them to organise PPC ads better. The below image of the Servetel dashboard demonstrates where you can find this information.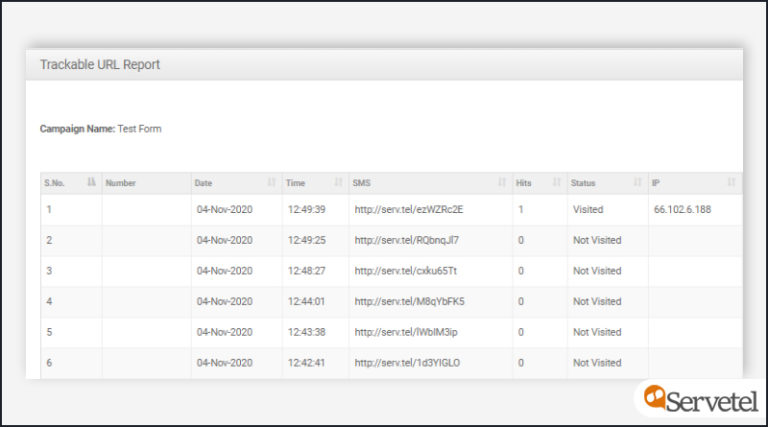 Suppose you're a restaurant owner. After measuring call tracking metrics for a few weeks, you'll notice that people call more around noon on weekends to book a table.
What are you to do with the rest of the week? It's possible that working hours on weekdays aren't popular for calls, especially if the restaurant is far from tourist routes.
The obvious choice in this scenario is to boost ad spending from Thursday evening through the weekend while reducing the number of advertisements from Monday to Thursday. In addition to this, you can also offer special deals or alter the message to attract the customer's attention on low-traffic days. 
The same applies to geographical areas. Businesses must target advertising and adjust bids for a specific criterion if the location of the leads is known. This way, it becomes possible to display the ads more or less frequently depending on where people are searching.
How does this help you financially? You save money on advertising in areas and time periods where no leads are generated.
5. Landing page performance as a call tracking metric
When visitors open your landing page, how do you engage and start the communication? There are various options that you can offer for contacting the company, including:
Adding a contact form to get in touch

Using the on-site chatbot to start an online conversation

Providing a virtual phone number
What happens when you count only on-site conversion? The conversion rate will appear considerably lower than if you collect statistics on the number of forms filled and messages left on the online chat.
Call tracking helps to compare inbound calls and form submissions in a customer journey. Which channel converts? Which one generates more revenue?
While form submissions may be easier to get, you may notice that calls are much more profitable. As a result, you must optimise the landing pages and PPC campaigns according to your needs.
6. Call source
Let's assume you display the same phone number in social media channels, newspapers, ads, newsletters, and landing pages. How do you evaluate which campaigns and advertising generate the most calls?
That's where Dynamic Number Insertion (DNI) can help. It means using unique call tracking numbers for each channel. As a result, the call source becomes clear, allowing you to determine which channel the prospect has come from. 
DNI provides the following benefits:
You can track separate campaign performance and compare their success with the same messaging

Dynamic phone numbers adjust to a prospect's location and are displayed automatically so that customers won't get confused with a list of different phone numbers on your website

Effective number management, that is, recycling unused numbers for future campaigns
To Sum Up
How can you understand the actual outcome of your call tracking and the whole marketing strategy? You need to leverage figures or call tracking metrics, including call volume, first-time callers, call duration, time of day, location, and contact source.
Complex marketing solutions need careful measuring of all conversions, so you can benefit from integrating call reports into your corporate CRM system. For example, what if it's possible to cut down on costs during weekdays? Or learn whether the used social media channels generate more phone calls than newsletters?
You can pivot your marketing strategy as necessary by answering these questions and ensuring that nothing slips through the cracks.
About the author
Kate Parish is the Chief Marketing Officer at Onilab, with 8+ years of experience in digital marketing and eCommerce web development promotion. Kate constantly upgrades her knowledge and skillset to stay fit in the progressing online world. She always does exhaustive research in spheres such as SEO, branding, SMM, PPC, and Magento PWA development, before sharing her expertise with her audience.
The author's views are entirely his/her own and may not reflect the views of Servetel.