Coronavirus defined 2020—however, so did the efforts of frontline workers and researchers across the world. They worked endlessly for months to be able to find a vaccine and fight the pandemic. The new year, 2021, has renewed everyone's hopes of banishing the pandemic.
That said, conducting a nationwide inoculation drive in a country as large and diverse as India is a herculean task, to say the least. 
This is where mobile and cloud technology can prove to be a strong ally for the government.
To quote our Prime Minister Narendra Modi: "It is also with the help of mobile technology that we will embark on one of the world's largest Covid-19 vaccination drives."
Cloud telephony can offer several advantages to officers, volunteers and frontline workers. Not only will it make the processes convenient for various stakeholders, but it will also automate various administrative tasks and expedite the operations. 
Exploring how Governments can Utilise Cloud Telephony Tools to Conduct a Successful Covid-19 Vaccination Drive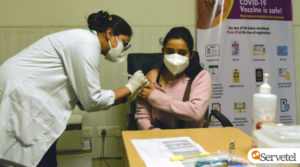 Step 1: General Information Dissemination
The first step of any campaign is to ensure that every individual has access to relevant information free of cost, through mediums available to them. Cloud telephony offers several solutions that will help the government achieve the same.
Covid-19 Information Broadcasting (Outbound IVR):
Outbound Interactive Voice Response (IVR) has a 100% reception rate. And that's not surprising, given that it is a simple yet effective tool when it comes to mass-scale information dissemination.
The technology can be deployed to broadcast crucial information such as the importance of inoculation, the efficacy of the vaccine, and more. It can also be to used to clarify any doubts that the public may have. 
And unlike voice broadcasting, outbound IVR can also be used to tailor messages for each individual. For example, the government can schedule personalised outbound IVR calls to those who have had Covid-19 in the past, asking them to take the shots.
This cloud telephony tool can help governments, hospitals and NGOs conveniently reach the masses irrespective of the literacy levels. Given our country's education disparity, spoken word serves as a better communication mode than the written word.
These voice messages can be pre-recorded in local languages to relay critical information to the public. They are an easy, cost-effective way to reach out to a wide audience at once. 
Text messages are one of the most engaging mediums. They manage to reach people even when poor networks prevent Internet and regular calls in remote locations.
SMSes also provide the option of including links to resources such as brochures, infographics, etc. The added bonus? Unlike voice calls, messages allow people to save this information for future reference.  
Thus, all that the stakeholders need to do is predefine the text of the bulk SMS and upload the contact database. These messages can then be scheduled for a later date or time or sent immediately.
Step 2: Locality and Individual-specific Information
Once general information regarding the drive has been delivered, the next step is to deliver information specific to regions and localities to the public. This includes details like locations of the nearest vaccination centres, one's position on the waiting list, due dates for the vaccination shots, etc. 
The following cloud telephony products and practices can help stakeholders undertake this task with ease. 
As we mentioned earlier, outbound IVR allows for personalisation of messages. So, notifications and updates can be recorded in local languages to ensure no one is left out of the loop. Stakeholders can even tailor these calls to deliver reminders pertaining to information updation, upcoming due dates for vaccines, and more. 
This will help healthcare providers coordinate with people in a better fashion without having to do much of the manual labour themselves.
Personalised communication with such a wide and diverse audience can be daunting, even with tools with an outbound IVR or voice broadcasting. But personalised messages can easily simplify such a complicated process.
The government can use predefined templates, even in local languages, and make minor tweaks to tailor the text as per each individual. This way, the government can deliver relevant information to a large group without losing out on the power of customisation.
The information will always be readily accessible to the receiver if they were to forget any details. 
Given the sheer scale of the Covid-19 vaccination drive in India, the privacy of healthcare professionals, officers and frontline workers is of paramount importance. 
Stakeholders can ensure absolute confidentiality of any personal information by deploying number masking. The technology can be used to assign virtual numbers to Covid-19 warriors and hide their actual contact details. 
Step 3: Automated Reminders for Vaccination Drive
Currently, two vaccines have been cleared for emergency use in India, namely Covaxin and Covishield. Not only do they need special storage conditions like sub-zero temperatures and careful handling but they also have to be administered in two doses at a gap of five to six weeks.
Cloud telephony allows authorities to keep these nuances in mind and accordingly send out appointment notifications and reminders to participants. These updates can also be automated for healthcare workers to eliminate any misses on their part.
Appointment Reminders through Texts and Calls
Automated voice calls and texts can be used to remind people about upcoming appointments, and remaining vaccine doses. It will ensure quick and concise communication and will reduce the repetitive manual labour that frontline workers will otherwise have to engage in. 
Governments and other stakeholders will also be able to keep a track of doses administered and patients left and arrange adequate logistical support.
Verification and Record Updation through OTP
Inoculating such a large people is bound to cause some confusion and chaos. Handling a considerable size of data regarding people that have been vaccinated and those that are still due for their shots can lead to cases of mistaken identities and incorrect vaccination. 
This confusion can be eliminated completely with the aid of OTPs (One Time Passwords). Healthcare professionals can leverage OTP service to authenticate the identity of the participant before the vaccine is delivered and ensure that the appropriate time gap has been followed.  
Integration with the Government's CO-Win Application
The central government recently launched the CO-WIN app to efficiently steer through the vaccination drive. Cloud technology allows the government to use APIs and integrate the Co-WIN and Aarogya Setu app to automate the entire vaccination process.
Combining the power of the cloud and the data that these apps bring will open the doors to a world of possibilities––say, for instance, the automatic updation of patient information. 
Using this data, vaccination centres will also be able to take into account special circumstances, such as patients who may already have Covid-19 history or patients with allergies, ongoing medication for other treatments, and so forth.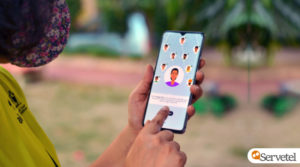 Step 4: Post-Vaccination Feedback and Check-ups
Feedback is an important part of any drive or campaign but it is even more crucial for an audience as wide as ours. The government can use cloud telephony tools to conduct post-vaccination follow-ups and give medical advice to its citizens.
Needless to say, people will have thoughts and opinions to share with the government once they've received their doses. They may want to share their appreciation or point out any flaws and loopholes in the process.
The government can ensure that these voices don't go unheard by collecting feedback promptly. Cloud telephony tools such as SMSes and CRM integrations will allow stakeholders to gather and make sense of the data. This will help them ascertain the efficacy of the programme, assess the healthcare workers' performance, and identify and fix any gaps.
This form of telecommunication allows people from various parts of the country to seek information without incurring any charges. Thus, they're encouraged to reach out to advisors and experts without any second thoughts. 
Integrating a toll free number with an IVR system will facilitate convenient telemedicine operations across the country along with large scale surveys. Authorities will be able to run 'Press 1' campaigns wherein people can call on the 1800 number, and using the keypad or even voice inputs, leave their reviews. 
Using these voice messages, stakeholders can deploy keyword mapping and sentiment analysis to identify any recurring trends and evaluate public satisfaction.  
Conclusion
It goes without saying that the Covid-19 vaccination drive in India will be the largest in the world. The logistical requirements and requisite coordination might even surpass those that are required for elections every 5 years.  
Cloud technology will empower the governments and other stakeholders to successfully conduct the inoculation drive without any roadblocks.
Servetel, India's leading cloud telephony service provider, offers plentiful features and guarantees 99.99% uptime guarantee. It stands to provide the best support to governments, NGOs and volunteers undertaking the herculean task of a nationwide vaccination drive. 
To know more dial 1800-120-4132