Article in a Glance
This article will equip you with essential guidelines for creating a fulfilling customer experience. There are 6 rules to keep in mind: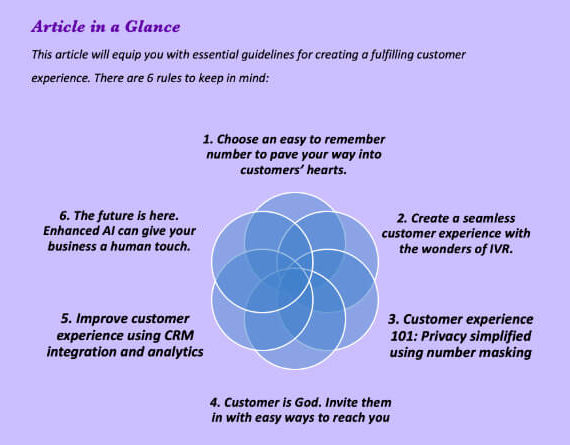 This is the customer is king era. Your business goal is to provide customers with the best experience so that they continue to renew your services. However, as amazing as your product's features may be, there are other factors that determine a consumer's decision.
customer experience, for one, is recognised by all major companies in the world. Do you happen to know whose words these are: "You've got to start with the customer experience and work back toward the technology, not the other way around"?
The answer? Steve Jobs. The mastermind behind the phenomenal success of Apple.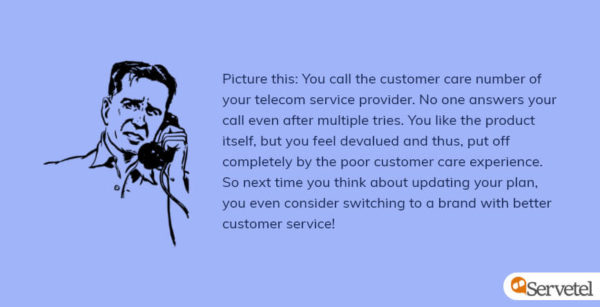 In the digital age, providing a seamless user experience is critical. Consider this quote by Jeff Bezos, CEO of Amazon: If you make customers unhappy in the physical world, they might each tell six friends. If you make customers unhappy on the internet, they can each tell 6,000 friends. 1 in 3 customers will leave a brand after even a single bad experience.
On the other hand, a happy customer is more likely to become a repeat and loyal consumer of your product.
But there's no need to worry. Follow these simple rules to boost customer experience using our cloud telephony solutions, and watch as happy customers translate to positive business figures.
Rule #1: Choose an easy-to-remember number to pave your way into customers' hearts
Companies like Domino's and Pizza Hut get massive phone traffic daily. Have you noticed what's common between their contact numbers?
It's simple—Toll free numbers are the way to go!
When you've put so much effort into perfecting your product and piqued the interest of the buyer, the last thing you need is for the customer to be deterred because of extra effort.
Write it on stone: Do not let the customer's process of contacting you require any effort on their part.
Think about it—would a buyer trust a random number that may originate from anywhere and possibly be fraudulent, or would he prefer a trusty 1800 number. Additionally, 1800 numbers boost brand recognition as people will associate your number with countless other popular services that use it.
That's not all. You can also opt for a virtual phone number or a vanity number to improve customer experience.
The buyer calls a virtual phone number and gets routed to a mobile or landline device. You only need an internet connection to set it up and there are no extra hardware costs, which makes this option insanely affordable.
Moreover, you can reach a wider clientele base without any geographic limitations. You could be based in a mountain lodge in Himachal Pradesh and still be able to perfectly cater to a customer in Vizag.
In your quest to enhance customer experience, you need to give vanity numbers a chance. These numbers are easily recognisable, often spelling out memorable words alphanumerically. For example, if your brand is named "FOMO", it could be represented as 3666 in your phone number. This will drastically improve your brand recognition.
Actually, why stick to one kind of number service?
You can even choose a toll free vanity number, and get the best of both features!
Rule #2:  Create a seamless customer experience with the wonders of IVR
It goes without saying that being bounced around from one department to another like a ping-pong ball is not fun. When a customer calls you for support, they are already in a distressed state of mind. So wow them with an impressive multi-level IVR system.
Our sophisticated IVR menu allows the customer to directly connect to the best-suited agent quickly, eliminating the need for middlemen and saving on time and money.
Here's how it works: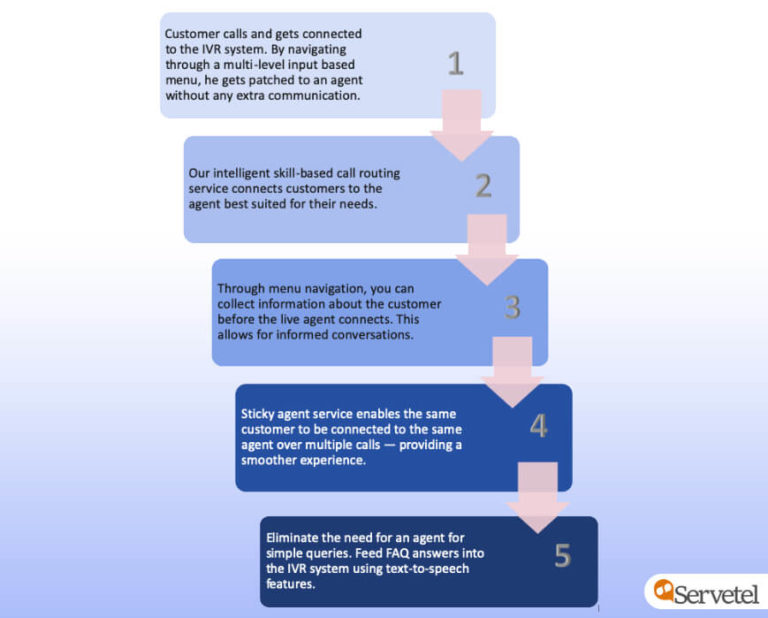 For your business to provide a quality customer experience, you need a high-quality IVR with user-friendly features and luckily, you need to look no further. Servetel offers a variety of IVR services based on your needs: single-level, multi-level as well as custom dial-plans. With its quick and cheap installation, it really is a steal!
Rule #3: Customer experience 101: Privacy simplified using number masking
Mask on was a thing even before COVID-19 hit us like a storm.
Number masking is a gem you didn't know you needed. It's so simple. You can choose one-way or two-way masking; which as the names suggest, hides one or both of the parties' numbers during the call. This improves the customer's trust by ensuring the protection of sensitive data.
There are so many times when a customer comes across a lucrative deal or product, but cannot commit to the purchase because it feels shady. Don't make that mistake!
Making customers feel safe and trusting is—and we can't stress this enough—absolutely essential. In a survey by Cisco in 2019, 84% of the people reported that they care about their data being used by companies, out of which 80% felt strongly enough to take action for its protection.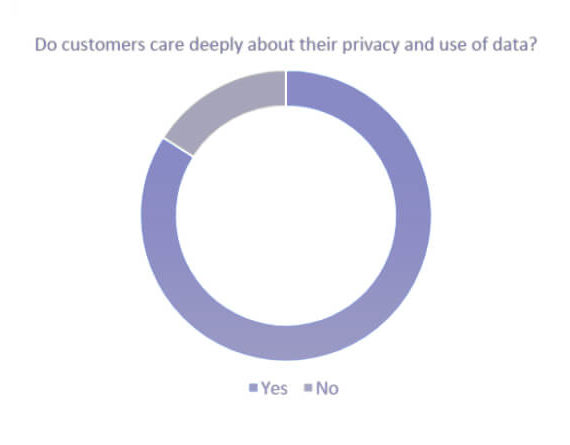 So if you ever wondered if your Uber driver, who called you 10 times to find you in the parking lot, can call again randomly, you may rest assured knowing he can't. The customer's number is masked in services like these to regulate the transactions better.
Rule #4: Customer is God. Invite them in with easy ways to reach you
Patience is a virtue very few people possess. Your average customer will not be pleased with a wait time, or worse, no response. Thankfully, there's no need to put people on hold incessantly anymore.
Use missed call services to turn unanswered calls to a boon from a bane.
With no cost to the customers, they are more likely to drop a call.
Use an intelligent routing system to assign the best-suited agent to call them back instantly.
In the process of the missed call, your agent also gathers enough data about the customer' call history to hold an informed conversation.
Do Not Disturb options are presented to users so you need not pursue those who are not interested in being contacted.
Using the click to call feature is another way to enhance communication.
Everyone is tempted to press the big red button. It's so easy! Just place a click to call button or widget on your portal, and one simple click will allow users to feed their number for your agent to call straight away.
Pro tip: When you do have to put callers on hold, have them wait with pleasing music instead of an annoying beep tone to maximise customer satisfaction.
Rule #5: Improve customer experience using CRM integration and analytics
A customer always calls with the hope of resolving their issues on the first call itself. This mighty task becomes achievable using CRM integrations which allow agents to access information about customers on their screen during the call. Better-informed agents can speedily attend to the customer's specific needs.
A survey conducted by Deloitte in 2017 found that the attribute customers value most in a contact centre interaction is the accuracy and quality of the information provided. A whopping 66% of surveyed executives gave this aspect a high priority, the highest among all options.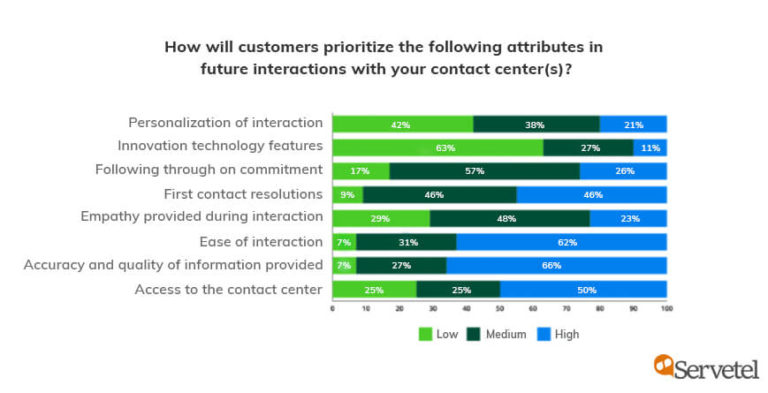 Servetel offers CRM integrations with popular software like Zoho, Hubspot, Salesforce, Freshdesk and more. This way you can have all your data together in one user-friendly portal to provide the best possible service.
Other features that help give the best customer experience include call recording and call analytics. These allow you to monitor the quality of your agents' calls—and even whisper or barge in on calls for a quick fix.
The recordings can act as useful reference points for later exchanges. Real-time data analytics on the dashboard help identify weak points in client interactions. Improve future customer experience with the aid of these tools!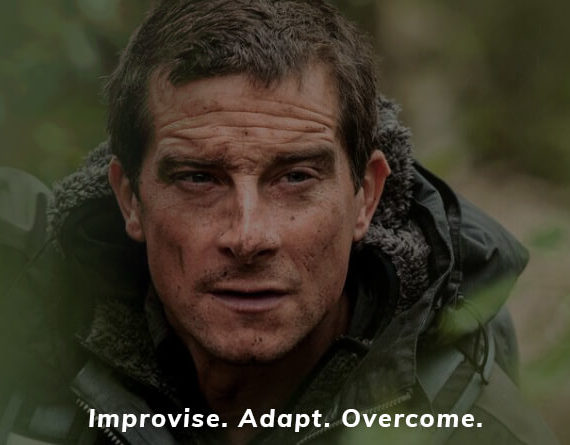 Image Source Link: https://www.flickr.com/photos/nationalchurchestrust/29112557790
Rule #6: The future is here. Enhanced AI can give your business a human touch
Technology is really smart.
Artificial intelligence can eliminate the need for manual effort in a lot of areas. The use of voice API can automate your calls to behave smarter—more human-like.
You can use any programming language to modify or create your own unique APIs. Click to Call, IVR, OTP calls and so many other features allow for pleasing customer experiences.  You're saving on time as well as manpower by employing AI for basic tasks.
SMS APIs can also be used to 'train' your SMSes. Customise features to your liking and needs, and opt for services like OTP verification, auto-responses to messages, automated alerts and other varying solutions.
The best thing about these APIs? You can customise them at any time to cater to your and your customer's changing needs! Incorporate growing modifications with changing times.
You're almost set to go…
While the goal of this article was to equip you with useful tools to improve customer experience, you must remember that a fulfilling experience requires more than the use of such features.
A few ground rules that affect customer service:
Build a rapport and form a meaningful connection with your clientele.
Figure out your target audience and cater to them specifically.
Not all customers prefer the same sales style. Be flexible with the customer's preference and change your style accordingly.
Always be receptive to feedback and strive to improve.
Recommended read: How to improve call centre agent skills
Hopefully, this article has helped you figure out the best strategy to boost customer experience. With the advent of technology, the scope for buyer satisfaction has increased manifold as well. Services such as virtual numbers, IVR, number masking, APIs and CRM integrations can be used in conjunction to transform your digital customer experience.
Become the top-runner in your field using these industry secrets!
Finally, remember that customers and businesses have a mutually dependent relationship that needs to be nurtured. When you integrate these rules for boosting customer experience with our services, you create magic.
Contact our sales team at 1800-120-4132 to get a boost on your customer experience now!