Past few months have jolted the banking industry with a series of important mergers. In an attempt to revive and revitalise the banking sector, the government has announced the merger of several banks in the next couple of years, which will trim down the number of public sector banks from 27 to 12. To stabilise the dwindling Indian economy, the government is striving hard to asses and revamp their ongoing strategies.
Banking sector which has experienced waves of changes in the last few years is also toiling hard to revamp its ongoing processes and  meet the rising expectations of the customers. They are focused on simplifying the traditional banking processes by integrating the latest technological advancements in everyday banking.
Ushering into New Era of Banking
Like other sectors, the banking sector is also focused on innovating existing processes and launching new processes/products to amp up the level of customer experience. The rise of Fintech startups – Paytm, MobiKwik, PolicyBazaar – has successfully transformed the banking landscape in unprecedented ways, resulting in the digitisation of all the banking activities.
Although, net banking and banking apps were already the talks of the town before the fintech startups catapulted into a revolution. But it was only when demonetisation hit the market that banking industry considered digitisation as one of the important 'customer experience' touchpoint.
Be it replacing the tedious process of money transfer with a quick scan, offering lucrative cashback, or centralising day-to-day payments over a single platform, these startups have simplified and eased the mundane processes like never before.
Challenges with Digitisation
Digital banking has proved to be a game-changer in the banking sector and this trend is only set to ascend in the coming years. The these rising numbers have posed transaction security as a new threat for the customers and banks. Going by the statistics, the Indian banking system detected Rs 71,500 crore worth of frauds in the financial year 2018-19. And among all, the top five thefts that are currently the biggest concerns for the banking industry are,
Cybercrime with the highest 22%
Card skimming with 17%
Fund transfer fraud with 15%
Data theft with a 15% share
Identity theft with a 12% share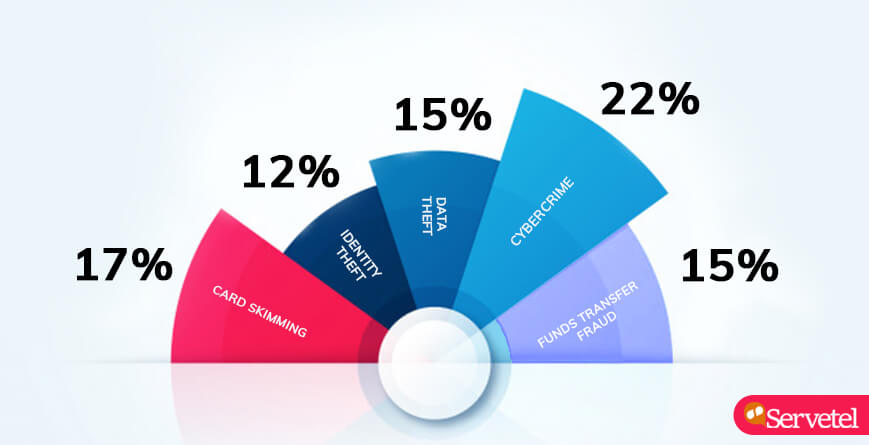 Cloud Telephony – Solution for the New-age Challenges
To handle these new age challenges, banks are turning to new age solutions. And one of the most prominent solutions that have gained attention is 'Cloud Telephony'.
With services like Toll-free Number, IVR, Two-factor OTP Verification, and Missed Call Service, cloud telephony solutions have emerged as the one-stop solution to many of the new-age problems faced by the BFSI industry. These solutions participate in various phases of banking to provide seamless and secure banking at every touchpoint.
1. Telephone Banking with Interactive Voice Response (IVR)
Popularly known as telephone banking, IVR has proved to be a life-saver for the banking sector. It is used as a quick and easy self-service banking platform which interacts with the callers through a list of predefined menu options and numeric responses.
Initially, the capabilities of IVR were restricted to account balance enquiry, card theft report and offers and schemes enquiry. But with the introduction of cloud telephony, the capabilities of IVR has also multiplied. Today, IVR provides a wide range of menu options such as,
Account balance
Transaction details
Request checkbooks
Loan status
Credit card payment
Fraud transaction report
Feedbacks and much more.
With the increasing flexibility, security measures are also toughened. Banks have started generating separate T-PIN for telephone banking customers. The T-PIN ensures only the customer with the PIN information can get access to telephone banking.
2. Customer Authentication through Missed Call Service
In the last few years, missed call service has gained traction in the banking industry. Banks are constantly rolling out new miss call numbers for different services. Providing access to basic services over missed call is an attempt made by the banks to provide customers with hassle-free banking experience.
For instance, HDFC rolled out missed call service to check balance, fetch mini statements, request checkbook and enquire account statement.
Call 1800 2703333 to get your Account Balance
Call 18002703355 to get your Mini statement
Call 18002703366 to give request for Cheque Book
Call 18002703377 to give request for Account Statement
But this is not it. Banks are now striding ahead with the service. They have started using it for verification purposes. They are asking callers to give a missed call from their registered number to verify themselves.
For instance, upon receiving a new ATM card, cardholders are asked to give a missed call from their registered number to verify their authenticity. Also, at the time of ATM PIN change, customers are asked to verify themselves by giving a missed call.
3. Outbound Calls for Fraud Alerts and Notifications
Banking sector is at the constant risk of fraudulent activities. And increasing digitisation has made it all the easier. A rising number of hackers are now snooping into the bank accounts to carry out online frauds. Thus to minimise these online frauds, banks have taken the rescue of automated call service.
This service is programmed to send an automated call to the account holder's phone number as soon as suspicious activity is detected. The automated call gets triggered on various conditions depending upon what qualifies as suspicious. In most cases, hefty transaction, 3 failed login attempts or activity from an unknown device are considered to be the red flags on which the automated calls are triggered.
Banks are sending automated calls in addition to the SMS notifications to add a sense of urgency into the matter and also to directly connect the customer with a bank agent if fraud is detected.
4. Securing User Accounts with Two-factor OTP Authentication
Did you know, 65% of people use the same password everywhere and 90% of passwords are crackable within 6 hours. These alarming stats clearly signal that passwords do not guarantee account security, and the risk multiplies when it comes to net banking accounts.
Realising this threat, an increasing number of banks have started incorporating two-factor authentication into their net banking login process. Two-factor authentication adds a layer of security to the login process.
In addition to entering regular account password, the customers are prompted to enter the OTP sent on their numbers. These OTPs are harder to crack as they are dynamically generated and are valid for a few seconds.
Apart from login, banks are using two-factor OTP service at every critical touchpoint which is prone to hacking such as password reset, user account reactivation and transaction authentication.
5. Performing Surveys with IVR Broadcasting
Although banks constantly receive complaint calls but collecting feedback from customers has never been easy. Most customers are too focused on getting their queries resolved that providing detailed feedback takes a back seat.
Thus, banks are now using IVR to collect feedback. IVR has made the feedback collection process a lot quicker and easier. It has replaced the filling of lengthy forms with a button press.
Customers can easily provide their responses in the form of numeric inputs. For instance, a general format followed in the IVR surveys is, rate our services from 1 to 5 (1 being the lowest and 5 being the highest).
And if the customer is extremely unsatisfied they are prompted to voice their issue on the call. This call is sent to a voicemail which is accessible to the decision-makers.
Take the Plunge
With cloud telephony solutions, customers can access all the banking services at the touch of their phone. They are no longer required to stand in long queues in order to enquire about their account balance, or avail a checkbook. Be it IVR, Miss call or Voice Broadcasting, every solution has added value to the ongoing banking process. This is why more and more banks are now taking the plunge into the world of cloud telephony solutions.
Call us at 1800-120-4132 to know more.