Are you ready for the brightest and the busiest season of the year?
Yes, Diwali is almost here!
This festival of lights brings with it a sense of rejuvenation for consumers and acts as a blessing for sellers. It usually results in the most extensive consumer spending spree, with millions of people flocking to buy everything from new furniture to household appliances, clothing, groceries, and so on.
After all, who doesn't like to spend that extra Diwali bonus on their loved ones?
Social distancing and remote working may be the norm this festive season, but businesses still have the opportunity to elevate their sales. Wondering how?
Simply by surprising customers with stellar experiences!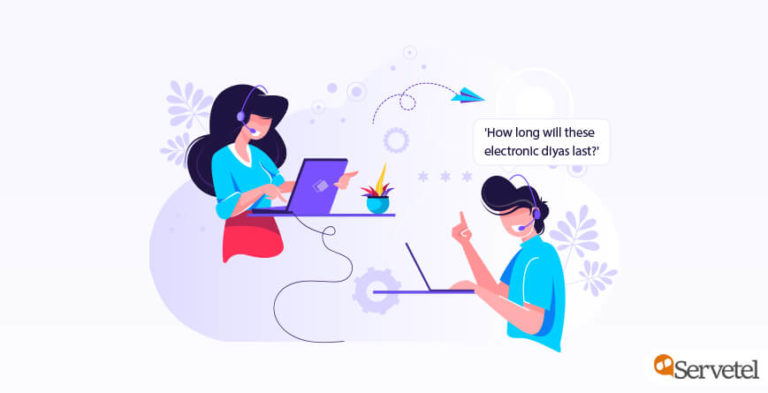 Good customer experiences don't just happen. You need to plan, design, and deliver them effectively to make your customers happy and satisfied.
Festivals are the seasons when customers are the most inclined to make a purchase. All they seek is great customer service. Businesses must make the best out of this golden opportunity. 
Delight your customers with instant solutions, self-service options, omnichannel service, and round-the-clock availability, regardless of their location or time zone.
But, the million-dollar question is how?
Well, cloud telephony is the solution to all your concerns!
Cloud telephony redefines your business communication by moving it to the cloud. It is the smartest and simplest way to deliver stellar customer experiences without compromising on quality or cost. 
Cloud telephony offers a multitude of solutions like toll free numbers, voice broadcasting, missed call services, bulk SMS, Interactive Voice Response (IVR), etc., that helps boost employee productivity as well as improve customer satisfaction. You can use these solutions to help your business thrive in peak seasons like, say, the Diwali rush. 
Here's how your organisation can use cloud telephony to prepare for a massive Diwali Dhamaka: 
24×7 support during the festive rush 
The onset of the Diwali season and the revival in businesses after months of inactivity are a blessing for every business—big or small. Markets and online sites are flooded with buyers looking to avail the mega Diwali offers.
In such a scenario, you can offer uninterrupted support to win over new customers and delight the existing ones. It will also help you gain an edge over your competitors.
Deploy Indian toll free numbers and allow your customers to reach out to you for free. Toll free numbers are an indispensable asset that helps deliver round-the-clock service, enhance customer experiences, improve client retention and grow business over time.
Additionally, they come with a variety of advanced features that provide comprehensive insights for better decision-making. You can monitor and record calls to keep track of your customer's data and analyse employee productivity as well. It is indeed a clear win-win for you and your customers!
Cloud telephony has many more features. You can also leverage virtual numbers to manage all your communication needs, magnify reach, and improve credibility—all without burning a hole in your pocket.
These numbers allow your agents to answer multiple calls simultaneously, helping you handle the bulk volume of calls effectively and efficiently.
What's Diwali without greetings?
With the festival season approaching, you can spread the festive cheer by sending personalised greetings to all your customers. A short and simple message, full of positivity and grandeur, can light up someone's day and have a long-lasting impact on them.  
Solutions like voice broadcasting and SMS blast come in handy when you want to simultaneously send wishes to your vast userbase. You can send wishes, reminders, discounts, information about your new launches, etc., and even keep your audience updated on your Diwali sale. 
What's more? Your messages can be personalised to the recipient. They can even be hyper-personalised based on demographics and preferences, without it costing a fortune.
So, be a part of your customer's celebration and let them know you care. Even small gestures such as expressing gratitude, congratulating them on their success, or sending them festive vibes can etch your brand into people's hearts and improve customer retention.
Festive routing with no missed calls
With Diwali preparations in full swing, businesses tend to gain a lot of traction from customers from different demographics.
While it boosts sales, the increased workload affects employee productivity and adds to their mental stress. They constantly need to be on their toes in order to attend to the endless calls throughout the day.
However, you can take care of both—your customers and employees—by adding a smart Interactive Voice Response system to your business communications.
A well-designed Interactive Voice Response (IVR) solution can make your business accessible and available to anyone during peak holiday seasons, regardless of when they choose to contact you.
It swiftly routes all the incoming calls to the right agent, reduces customer hold time and bolsters efficiency while also saving time for the agents.
Moreover, an IVR system answers the most common queries of customers with pre-recorded messages. You can also leverage the customised voice message feature to greet callers in their preferred languages and make them feel the spirit of the occasion.
As callers can resolve most of their queries with self-service IVRs, your business can significantly reduce call centre operations costs, which translates to higher returns.
Shine like a star among other gleaming lights
With the majority of the Indians looking to spend a substantial amount of their income, Diwali is the period when businesses must come up with effective campaigns, creative emails, sentimental stories, and other visual treats to attract people's attention.
However, as customers are bombarded with so much content, it is more likely that your business advertisement, email, or story will not reach your target audience at the right time.
But fret not, the voice broadcasting solution can help you hit the right cord!
It delivers every single message you want to convey to your target customer at the right time, no matter if they reside in distant corners of the world.
Additionally, voice broadcasting comes in handy when planning engaging festive campaigns.  It streamlines your call tracking processes by generating a detailed list and provides valuable insights like the total number of calls, number of conversions, etc.
You can also run these voice broadcasting campaigns to announce your offers and Diwali special deals.
In fact, you can integrate a poll with your message and ask your callers to press one if they are interested in availing the Diwali special offer. Your sales team can then contact all the interested prospects.
Conclusion
Diwali is all about joy, positivity, and a lot of festivities. You and your customers feel this rush alike, so shower them with stellar customer service.
Remember, Diwali gives customers a reason to buy. So, you must leverage reliable, automated, and modern solutions to deliver exceptional customer experiences. Here, cloud telephony has undoubtedly checked all three boxes.
If you wish to avail any of the benefits mentioned in this article or more, get in touch with us at 1800-120-4132.
Wishing you a very joyous and safe Diwali!