(Update: This blog was originally published on 25th August 2017 and was last updated on 15th April 2020 for comprehensiveness and accuracy.)
Do you know more than 84% of the diners compare among restaurants before deciding where to eat? Today, creating a successful restaurant is not just about quality food but also about a quality marketing strategy that sets you apart. Now the big question, "How to make an impression that attracts the customers to your restaurant?"
The answer lies in the age-old marketing mantra, stay in sight to stay in mind. You need to curate a marketing strategy that not just enables you to keep in touch with existing customers but also reach out to potential diners. Among the various marketing options, SMS marketing has emerged to be one of the most effective ways of capturing a customer's attention.
Check out the infographic below to get a more comprehensive idea of Servetel's Bulk SMS service and help you create engaging marketing campaigns.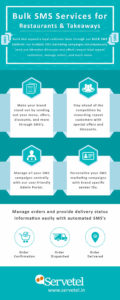 Equipped with SMS marketing, restaurants, eateries, cafes and takeaway outlets have successfully build a quality customer base. Let us understand in detail how SMS marketing is helping dining and food delivery industry in boosting their sales.
Build Your Customer Base
Reaching out to a large potential clientele is the first step in building a customer base. The bulk SMS service is a notch over traditional methods such as distributing flyers, putting up hoardings, etc. and helps you achieve your targets economically. With Bulk SMS service, you can also prepare customized messages to attract the diverse diners resulting in maximum outreach and high ROI.
Promote Your Offers
Discounts, offers, reward points are the new 'welcome cats' for any owner.  Bulk SMS service helps you run such large-scale marketing campaigns driving traffic to your outlet. You may also customize the delivery time of such messages to increase the diner's response rate.
Personalized Messages
Retain your brand's personal touch with the diner even while sending mass text messages. Bulk SMS service enables you to customize your content according to the customer. You may add their name to the messages, wish them on their birthday, offer them a special loyalty award or even send them a text message in their regional language using language APIs. Bulk SMS service can help you project a professional yet personalized brand image by including your brand name within the sent IDs over SMS.
Status Updates
Make your process transparent by sending constant SMS status updates without hampering your customer experience. It strong arms your reputation as a customer-oriented brand and improves your competitive quotient. Texts also allow you to reach your customers seamlessly at any point of time and eliminates any internet dependency.
Monitor Your Processes
Bulk SMS service provider like Servetel offers you an interactive admin portal, which makes it easier for you to monitor and analyze your messaging campaigns. It gives real-time progress of the various metrics to boost the effectiveness of your marketing strategy.
Conclusion
Now that you understand the benefits of bulk SMS service, its time you utilize it to your advantage. This marketing technique has the potential to pump-up your revenue and take you to the A-list of the food industry. Call us at 1800-120-4132  and opt in for Servetel's Bulk SMS Service today!