In this digital era, customers are overloaded with content on different products and services. Amid this, internal and external links further dissuade them from finishing their searches. 
In short, the majority of the customers won't buy from you instantly.
Many say that 'the first impression is the last impression'—but, not when you're in sales. 
Salespeople have to make their best impression repeatedly with every customer interaction. However, what salespeople generally do is pat their backs simply after drafting a persuasive email or upon pitching a product brilliantly over the phone.
This is where they make a mistake. 
Studies have shown that customers say 'no' up to four times before accepting any offer. The failure to see the potential of constant follow-ups renders salespeople and their initial attempts futile. 
That's a huge loss in potential revenue simply due to a lack of follow-ups, isn't it?
Though one can understand the resistance towards follow-ups. Salespersons are time and again reminded not to be pushy or aggressive in their pitch. Therefore, it becomes difficult for them to strike the right balance, resulting in either too many follow-ups or none at all. 
Let us try to understand in more detail the resistance towards follow-ups. 
Salespeople don't want to be perceived as pushy
As mentioned above, salespeople are generally perceived to be aggressive and pushy in order to hit their sales targets. They believe that constant follow-ups will only prove this negative perception. 
They don't want to hear a "no"
Self-explanatory, right? However, a definite "no" is actually a boon for a salesperson. This allows them to cross that prospect off their list and focus more on warmer leads.
Tracking thousands of leads and their updates might overwhelm some salespeople. This, while the most unlikely, is one of the ways they forget to realise the potential of follow-ups. 
"Money makes the world go round", and for salespersons, money is the incentive that makes them go around the world. They are constantly looking for warm leads and close as many sales as possible.
But think about it: what is there for you to lose? 
Never give up on your prospects
It goes without saying that you shouldn't disturb prospects once they ask you not to. However, giving up on a prospect simply because they did not open an email, or did not respond to it is a bad idea. Sending infinite emails to the prospect who is not interested is a bad idea too.
Balance. Balance is the key. 
To strike this balance, many organisations strategise whether to send 5 emails or 12, depending on their own specifications. This is where automation, combined with the right tools, comes into play. Many CRM software offer this feature to automate follow-up emails and messaging to their clients. Furthermore, cloud telephony solutions like bulk SMS are also a great medium to contact your prospects on their mobile phones.
How to automate your follow-ups?
As discussed above, follow-ups are not getting the attention they deserve. Investing time and resources towards automating follow up emails or calls is the need of the hour and is bound to generate more revenue.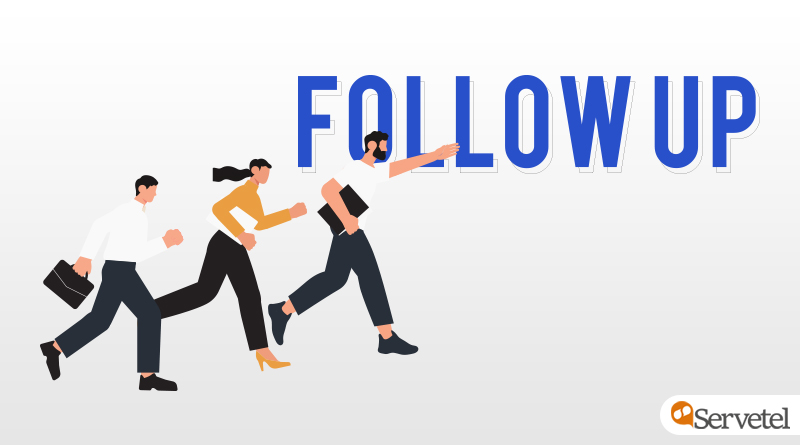 Let's look at how we can create a fully automated follow-up strategy to maximise revenues.
For any new strategy to be implemented with full vigour and optimism, there's always an underlying need to start afresh and unlearn the old ways of doing things. Not just strategically, but mentally too. Set the old ways aside and start afresh.
Pick your final destination
An effective follow-up strategy is never restricted to simply persuading the customer to buy from you. But, it goes beyond—building trust and gathering insightful feedback from your loyal customers. Therefore, the automated follow-up strategy you are shooting for must be capable of differentiating leads from actual customers.
Once leads are converted to customers, you should focus on building a relationship. You can do this by:  
Explaining the value added by your product

Build on customer service

Offer discounts and lucrative deals for repeat purchases 

Referrals.
Always keep in mind the ideal customer experience you want to deliver and automate accordingly.
Now that we know where we want to reach, our next step is to discuss the "how" of it. Here, you must spend some time considering the objective of these automated follow-ups. This is where you define the success of this strategy.
What would my automated follow up strategy do for me?
These goals can simply be general statements of what this strategy will achieve for you. Later, categorise these goals into pre-sales and post-sales accomplishments. Your list might look something like this: 
Pre-sales:
Put across value addition

Position brand as elite and premium

Generate more traffic on the website

Assign qualified leads to salespeople
Post-sales:
Build trust by forwarding testimonials

Motivate them to upgrade by using case studies of other clients

Look for feedback and testimonials

Encourage them for referrals and reviews
Check your goals once again. If you're satisfied with the results, you are ready to move on to the next step.
Brainstorm and set up smaller tasks
To all goals set in the previous step, add the "how" question to it and answer them with "by" statements. For example, if you want to motivate your client to upgrade their solutions, you can do that by explaining to them the different use-cases of your products and services can be used. This will motivate them to explore and opt for other services from your company.
Similarly, you can build up on these 'by' statements and make a list of 5-6 ideas of how to achieve these goals. If you do it right, through productive brainstorming sessions, you can zero down to an effective follow-up strategy. 
Implement and modify with hindsight
After discussing ideas, narrow down using the funnel approach. Next, map out the sequence of events for different categories of prospects—leads, existing clients, unqualified prospects, etc. 
It will feel like putting together a giant jigsaw puzzle. Once you have the pieces, try to fit them keeping in mind the customer journey, with the end goal of guiding them through your funnel.
Next, prepare a list of things you need to do to bring your automated follow-up strategy to life. For example you might need new email drafts, programs such as refer-to-earn or maybe some new graphic designs. Use an effective project management tool to bring it all together.
While implementing a new strategy, do not forget to move with hindsight. Remember to mine out all the data pertaining to your old follow up strategies. Identify the key metrics to compare both strategies. Hopefully then, your new automated follow up strategy will perform better than your old one.
Some key metrics you could use are:
Email opening rates

Number of prospects

Average lead time

Number of closed deals over time
Conclusion:
To put it in a nutshell, your automated follow-up strategy should solidify your customer relationships while keeping their interests and preferences in mind. The goal is not always to sell. Sometimes the goal can be to introduce the prospect to your services. Sometimes, it can simply be to put forward a referral program. 
Lastly, your automated follow-up strategy should be able to:
Differentiate you from the competition

Position you as an elite brand

Cater to the needs of your prospects

Add value to your client's business

Foster

s

trustworthy relationships
If you're also constantly trying to persuade customers using an automated follow-up system, let us know at 1800-120-4132! We would love to hear from you.