To vote for your favourite contestant, please give a missed call on xx-xx-xxxxxx. 
Sounds familiar, right?

Please give me a missed call when you reach home.

Give me a missed call to remind me about groceries.

I'm going to bed, wake me up with a missed call.
In other words, for every reminder, missed calls are the solution.
Similarly, the need to cope with higher call rates has led to the popularity of missed calls. The idea is as simple as it is with reminders—such calls may not result in a conversation, but they serve as an 'alert' and, sometimes, more. As Indian consumers, we are always looking for ways to save money on our calls. A missed call provides just that. It is a convenient and affordable medium to convey pre-agreed and mutually-understood messages.
What started out as simply a feasible way of communication has now become a vital business opportunity for prominent sectors—FMCG, banks, and even politics! Missed call solutions are being adopted by brands to effectively interact with their customers.
According to a study , 75% of customers feel that it takes too long to reach an agent on a live call. With such statistics, it is always safe to implement a missed call service.
Without further ado, let's get to the nitty-gritties of this solution.
This guide will walk you through the concept of missed call solutions and how they benefit businesses and customers alike. It'll also explore its exclusive uses in enhancing customer experience. 
What is Missed Call Solution?
It's quite obvious—you initiate a call but disconnect it before a connection is made. Missed call service is a cloud telephony solution that disconnects customers' calls automatically after a response has been registered. This can be configured for a marketing campaign on a fancy number, or as a regular means of contacting your customers on a business number as well.
Consequently, it saves your clients costs and aids clear communication. This whole process reduces wasted time and manual intervention of agents. Additionally, missed call service is a brilliant mechanism to generate new leads for all types of businesses. A robust online dashboard supports this solution by providing insights on caller details—number, location, service provider, etc. These leads can prove to be a source of great revenue in the future.
A FEW USE CASES:
The financial sector has been using missed call services to its fullest potential for quite a while now. Tasks like confirming your clients' bank balance, a specific transaction, or simply changing your email address can be easily pulled off using a missed call solution. A linked number allows quick and accurate security checks. 
Fine examples of missed call solutions are associated with the e-commerce sector where tracking remains vital. Status of delivery, mode of payment, delivery time confirmation, and other details can be accessed via missed call services.
It's important to maintain constant contact with customers in order to retain them—otherwise it's all out of sight, out of mind. Thankfully, missed call solutions allow you to do just that. For example, you can send out common messages like "give us a missed call to request a call-back", "give us a missed call to receive an OTP", etc. 
Non-intrusive engagement is the best way to grab customer attention without being too obvious about it. Media, reality shows, and the entertainment industry have all made good use of it.
It is important to ensure that you do not spam customers with your calls or messages. If you're skeptical about the type of updates your customers prefer, you can give them an option to opt in or out of your campaigns using missed call services.
Other Uses of Missed Call Solutions
To convey short messages

To communicate with cab or food delivery executives

Customer details verification

Lead generation

To show support for causes like poverty, hunger, natural disasters, etc.

To register phone numbers
Rulebook to Create Interactive Missed Call Campaigns
(1) Choose a Number
The first decision for an effective missed call campaign would be to choose the type of number. Would a toll free number better reflect your brand mission? Or should you go for a vanity number? 
You can publish the chosen number in print media or flash it on your website and social media. After registering responses from your customers, you can trigger the next action.
(2) Setting Up the Campaign Agenda
This is a vital step. The objectives of missed call solutions can be varied: lead generation, number verification, delivery tracking, and so on. These goals decide the script of the IVR to be recorded. The more interactive your IVR is, the higher are your chances of success. 
For example, if you're seeking support from your audience during a natural disaster, you have to set up the IVR in a manner that resonates with the audience emotionally and persuades them to take action.
(3) Analyse Results
Using a comprehensive dashboard along with a robust missed call solution enables you to analyse your campaign progress. Moreover, you can effectively use A/B testing to zero down on competent approaches. Automatic reporting lets you check the insights real-time so that you can change bits of your campaign on the go.
Master these simple steps, one at a time, and your campaign success is guaranteed.
If you're still unsure, let's take a deeper look at the advantages of having a missed call number in place.
Reach out to audiences:

Users respond better to a non-intrusive form of engagement, such as a missed call, because it's a voluntary medium to connect instead of a forced one.
One-step registration/verification:

It saves you the time and effort to take customers through various rounds of lengthy forms and questionnaires because you replace all the toil with a simple missed call.
Flexibility:

The ability of missed call solutions to amalgamate with any software gives them the edge over other communication mediums. The service can integrate easily with CRMs and websites, adding to its overall ease and functionality.
Tracking:

An added advantage is the intuitive dashboard that offers detailed analytics and real-time monitoring features to keep an eye on your performance at all times.
Cost-effective:

Being powered by the latest cloud technology, missed calls are the most cost-effective among other cloud services serving the same purpose.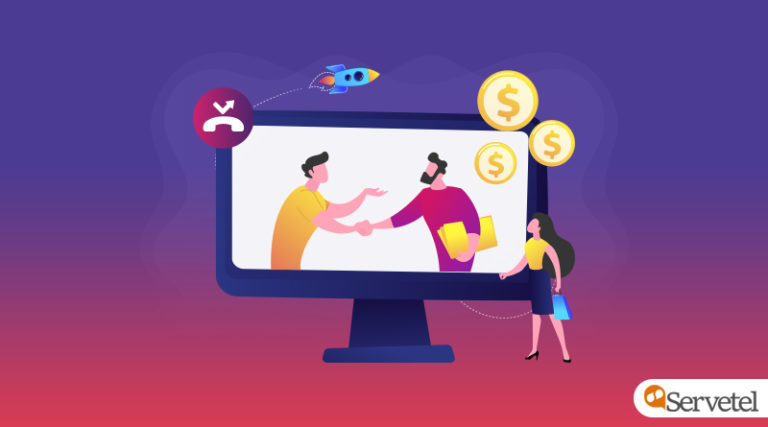 Customer feedback:

To complete the feedback loop, companies usually deploy tools and solutions that aid a 360-degrees feedback process. Missed call services are an effective way to drive that process smoother and faster.
Conclusion:
It's appealing to discover unique applications of missed call solutions across various industries. The affordability and simplicity of this technology can do wonders for organisations of all shapes and sizes. It is a smart way to persuade customers towards taking action and engaging more with your brand. 
Efficient missed call service providers save you the time, effort, and money that is otherwise required to pull off a successful campaign. Intelligent deployment of this solution aids quality lead generation and efficient tracking.
After all, higher the engagement, more the revenue!
Servetel offers the best in-class missed call service for all your communication needs. Look no further! Call 1800-120-4132 now to get in touch with our agents.